Haitian-American singer-songwriter, Natalie Jean has earned innumerous award nominations, including a 2019 Global Music Awards Medal and was a 2019 Josie Music Awards Winner. A voting Member in the Recording Academy (GRAMMYS), Jean has already released 5 albums and countless singles, many of which focus their attention on empowering and enlightening people. Her ideals, morals, and aspirations run rife throughout her music. Natalie Jean's latest album "Where Do We Go From Here" begins with a bold statement. The opening song is called "I Told You No" – and explains the artist's shocking real-life experience of sexual assault. "I made it my first song, because I believed it to be impactful and the most shocking. I wanted others to feel what it is like to be assaulted," says Natalie. "Some people think that it is the woman's fault—if they had just done something different or worn something different."
There is something to be said for Natalie Jean's beautiful writing and emotional voice here, while the song solidly sets the stage for an emotional bag of issues that bother and affect Natalie, and in general afflict the world at large. The album no doubt, continues the pop powerhouse's evolution as a raw, honest artist.
She consistently delivers amazing music that stays with me long after my first listening, and things are no different on this album. Many fans will be touched by the contrasts of Natalie Jean's vulnerability and strengths in this album and praise it for this reason.
Some of my favorite things about Natalie's work are her mixture of heartfelt lyrics and catchy melodies. "Where Do We Go From Here" delivers undeniably beautiful lyrics, while the music complements them in no uncertain terms.
"Heroes" affronts the theme of gun violence and the impact it has on the lives of children. "A child should be the living the life of a child, not trying to save someone else's life," warns Natalie. But she openly discusses everything that has pained and tested her throughout her life, and in "I Am" reflects deeply on how we are superficially judged on the color of our skin.
Natalie returns to the theme of violence on "Numb" and discusses how we've become so accustomed to its occurrence that we remain totally indifferent. Wrapped in a driving rhythm, "This House" – co-written with Michael Peloso – looks cuttingly towards the White House and the immigration system.
"Tired" takes stock of everything in this world that desperately fatigues Natalie's human sensibilities. Moving forward, we find "Mother Earth", a track that dissects our behavior towards an eco-system in dire need of a different human attitude.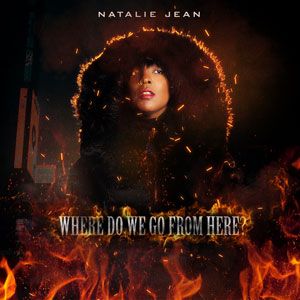 Natalie points her focus towards homeless veterans on "The Forgotten", and then swiftly switches her attention to female empowerment on "We Rise". Uncompromising and unstoppable she moves from issue to the next, weaving what slowly seems to become a sort of concept album. Written with Darick Dds Spears, the slow burn of "We Kneel" seeks to throw light on why people are kneeling at football games.
Included into the album are 5 previously written songs that have been revisited in some way to give them a new slant. Among them, the powerful anthem, "What Would You Do For Love?"; "Hands Up" – another look into gun violence against Afro-Americans; "You Don't Know Me" which ponders the question of shallow relationships; "Love Your Own Power" is clear in its female empowerment – "There'll be those who will say that you're just not enough. Keep moving ahead. Love your own power." Finally, "The Letting Go" is about setting your differences aside, letting go, and starting anew.
All things considered, "Where Do We Go From Here" is a perfect album from an exceptional artist. It is at times a raw autobiographical portrait, and at others, an amalgamation of analysis, rage, and growth in a collapsing and hostile world.  Natalie Jean's singing has a pleading tone and raspy edges, and it's growing more expressive with each release.
Natalie demonstrates an abundance of lyrical confidence, resulting in an album with real drama and humanity. Given a bigger platform and increased attention, Natalie Jean is ready to rise to any occasion. I have a feeling she knows exactly where she wants to go from here!
OFFICIAL LINKS: WEBSITE – FACEBOOK – TWITTER – INSTAGRAM 
Please follow and like us: