Little is known of Mr. Faia's personal life or whereabouts, except that he is on active Navy duty by day. Luckily, all we, and music fans, need to know about Mr. Faia is engraved on his 6 song EP, "The Convalescent". The recording as a whole is a blend of deep progressive funk and classic chilled downtempo, infused with signature hip-hop, trip-hop, and ambient flavors. It's impossible to narrow it down to just being one certain thing or genre, it's an eclectic amalgamation of genres but yet it works incredibly well as a full collection. Results can sometimes be underwhelming, when dealing with instrumental hybrids, but in this case it works so damn well I'm wondering why Mr. Faia didn't get here sooner.
The EP's first two tracks, "How We Live" and "Hazardous Duty" serve as an easy introduction to Mr. Faia as an artist, which will be good for new fans. They showcase his signature funk-based rhythms and space-age synths well, while easing you into the feel of the EP.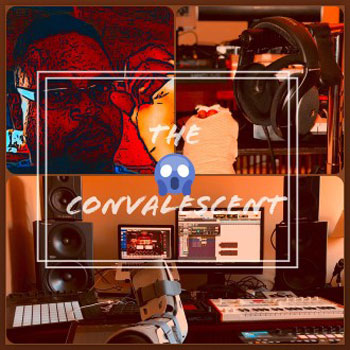 In fact, it's not until the third track "Help! (I've Fallen and I Can't Get UP!)", that we get a significant taste of his musical evolution. It's moody, slow-burning, but still funky, and delivers some of the meatiest bass-lines you'll hear from anyone this year. In the grand scheme of the album, it's a signpost that things are about to shift.
Mr. Faia picks up the pace on "Pain Blockers" and runs with it, with the remainder of the EP exceeding all my expectations. By this time its crystal clear that no-one even comes close when you're talking bass driven beats. Mr. Faia has a way with resonating basslines that rivals the George Clinton and P-Funk heyday.
Very few modern electronic music producers pay as much attention to the gorgeous driving potential of the bassline as Mr. Faia does. His basslines can move even the stiffest square. To me, it's an essential part of distinguishing him from the pack.
The first time we actually hear a voice is on "She's Got Me", but it only serves as a cinematic intro to the track. It is at this point that Mr. Faia wields his second secret weapon – the melody – as he carefully weaves an ear-warming tune on the ambling backdrop.  
"Ist Day Back" showcases the percussion, in a track that never loses momentum. Listening to track, what becomes clear is the attention to detail that goes into making his music. Every kick, snare, or cymbal, gives an energetic, expansive vibe to his songs.
At its core, "The Convalescent" delivers a labyrinthine synthesis of jazz, funk and soul, weaved together by urban beats and distinctive synth work. The beats are extremely uplifting and give the listener an alluring spark of energy.
The record succeeds as a positive representation for Mr. Faia skill as a music producer, and he does put a personal stamp on every track. At its best, "The Convalescent" is shimmering and flamboyant. At its worst – it is simply magnificent!
Please follow and like us: