Moriel Sparks is a talented writer, singer, dancer and all around entertainer on the DUCMG RECORDS label. Born in the Detroit Michigan Moriel Sparks honed his talent under the guidance of legendary artists Troy Taylor and Teddy Riley  and has performed with artists such as Gucci Mane, Chris Brown , Tre Songs , Zay Hilfigure ,  Ju Ju On That Beat and Bryson Tiller. Moriel Sparks is releasing his R&B debut single "Do It Like Me" ft. iYan Jackson on Jan 10th 2017
Moriel Sparks is the real deal. He mixes a bit of 90's R&B with today's sound and it comes out sounding great. In general, I find it difficult to find a male vocalist who delivers melodically, whose lyrics you can understand and play around anybody, and whose stories, tempo, and sound are relevant to many, displaying varied emotions and moods.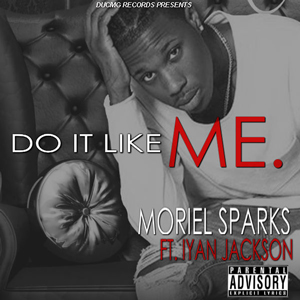 Sparks has obviously taken a steady approach and perfected the formula of evolving as an artist before releasing his debut. His sound, unlike a few other artists out now, is not over the top with sounds that feel like you're getting stabbed in the eardrum. Instead, Sparks has the right melody and sound that makes his music enjoyable and easy on the ear. This young music artist seems to know how to put his lyrics down to music smoothly.
"Do It Like Me" ft. iYan Jackson is a lush song with lovely harmonies on which Sparks lists his amorous strengths and reminisces passionately. His delivery is smooth and sensual while he is able so set an intimate mood with his vocals which is wide-ranging.
You definitely have to have an appreciation for this talented young man to come out with a record where you can tell he puts his all into the song. It would've been awesome if there was full video available for to go along with the song, but I'm pretty sure that's coming next.
He's a multiple threat, being phenomenal writer who pens his own songs. He's a true performer in that he can dance and sing very well. But best of all, Moriel Sparks does not rely on gimmicks to sell his music…he relies purely on his talent.
OFFICIAL LINKS: TWITTER – INSTAGRAM – FACEBOOK – YOUTUBE
Please follow and like us: