The hit making machine, Magik Brothers, in its initial form, was a collaborative effort between Maciej Kaniewski and Ared Arzumanian who later brought on board vocalist and writer Eilona Skvirsky.  Among their popular songs you will find "Zodiac", a top ten hit in Poland and their most well-known piece domestically. Now, a few years since the last Magik Brothers release, Maciej is dusting off the mixing board and bringing back the Magik Brothers name, hoping to extend and build on the legacy that has defined his musical career. Born in Poland and raised from a young age in Canada, Maciej's passion for music has developed over the years, spawning hits in his own name as well as scoring production credits on the work of other artists.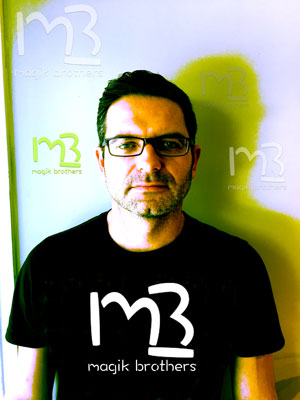 Magik Brothers, with his deft sense of mood, melody and tempo is bringing the club floor closer to the living room sofa. Here Maciej is bearing the standard for deep, sexy house, and with "Missing You" he establishes himself among the vanguard of this genre.
Maciej's uncanny knack for creating great tracks on the lighter side of EDM in a time when almost every other big name Producer is succumbing to the trend of deeper and darker sets, makes Magik Brothers stand out from the electronic pack.
Here you will discover Maciej Kaniewski's brilliant mixing, production and song construction, as well his superb understanding of melody, and hooks that don't irritate or are too overwhelming. In this case he uses a keyboard whistle-sounding hook, which is simply endearing to the aural senses.
The result is part dance floor, part mellow soundscape, and all done with class. I think that the Magik Brothers here represents the pinnacle of the evolution of smart crossover EDM in the last few years.
I am sick and tired of all these elitist technophiles labeling everything that has a melody as commercial or inferior tunes. Why is melody bad? Which musical world do these guys come from? Melody is what modern music – as we westerners know it – is all about.
The notion that if your tracks have some sort of melody, no matter how good, then you are not a 'true' Deejay or electronic producer is rubbish…and Maciej Kaniewski proves that here on "Missing You", beyond any reasonable doubt.
Showing the onward movement of the melodic electronic sound to also encapsulate brighter, cleaner rhythms, Magik Brothers paints an indelible soundscape with this track that will draw attention from a wide range of music fans.
OFFICIAL LINKS: WEBSITE – SOUNDCLOUD – FACEBOOK – YOUTUBE – ITUNES
Please follow and like us: