Italian based EDM producer and pianist, LREDS continues his collaboration with Rafaela Koseva on his brand new single "A Brand New Life". LREDS launches an all-out electro-house assault in the floor filling euphoric stomp of "A Brand New Life". The record successfully marries the heavy techno beat with a strong hip-electro edge. On the track the bassline broods, throbs and roars behind a melodic vocal track lyrically and aurally ploughing the same ground.
LREDS fires up a beastly synth-fuelled monster, a storming dancefloor smash. His skill as producer turns what could have been an average release into an uplifting and self-consciously slick record. The many LREDS releases have hinted at a possible electronic dance album, this is perhaps one step closer, while he's still dance-floor minded enough to keep those hands waving. Rafaela Koseva does a great job of keeping the melodics interesting and being able to draw listeners in wit her soaring vocals.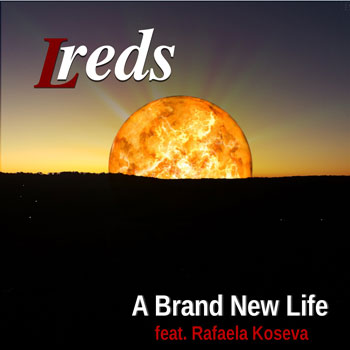 "A Brand New Life" draws together various strands of LREDS production personalities, casting a crystalline modern sheen over a thickened kick drum and twisting bass line. Yet the track's genuinely compelling moments are scattered out over spotless plains of breakdown functionality, mechanically loopy acid, and towering-but-harmless walls of precise EDM sound design that sounds both vintage and futuristic.
There's a purism question, obviously. How far did LREDS immerse his innate ability as an arranger, DJ, and producer in the synth acid bath to create this track? The world has changed, music has changed, but LREDS remains the same, excellence realized in a sort of techno form.
LREDS "A Brand New Life" project indisputably delivers on his reputation as a master of innovative techno, and you will find yourself putting this track on repeat. Please bear in mind this is not like much techno you hear out there currently, so do not expect a stale mechanical banger or a underground distorted tech house tune.  This is LREDS expressing himself as he hears the music in his head, and he arguably does a great job at that.
The quality of production on this track is second to none. LREDS is a maestro, and I am not quite sure if too many have come close to what he has delivered here with "A Brand New Life", a track that bristles with energy and life!
OFFICIAL LINKS: SPOTIFY – ITUNES  – SOUNDCLOUD – TWITTER
Please follow and like us: