William Elvin and the Circus Tour is the musical project of Hong Kong-based Filipino singer-songwriter and performance artist William Elvin Manzano. Having written a number of original theater productions in his hometown of Manila, William Elvin is now offering his personal, introspective work that paints a musical picture of a journey from loneliness to love and self-(re)discovery. Beyond the surface of his easy-rolling acoustic numbers, William Elvin has always presented a grittier take on heart-driven relationships, often slipped in tongue-in-cheek one-liners or easy-enough metaphors. Maybe tales of the depths of love aren't a new thing, but when you've got a pure voice and aim for theatrics like William Elvin, they're still deeply affecting.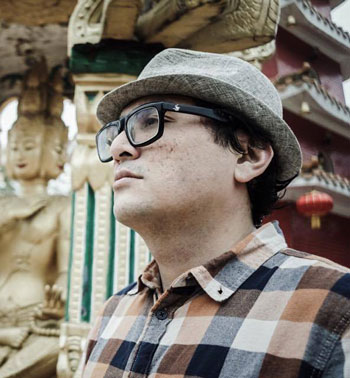 The soft, tortured acoustic ballad is a valid and occasionally transcendental form of creative expression (see Dylan, Buckley, Nick Drake et. al.) but over the last fifty years, it's also become mind-numbingly formulaic.
Filipino troubadour William Elvin's challenge to revise and redeploy means that the track, for all its quiet confessions, is ultimately far more poignant and sonically unpredictable than anybody wants to admit. "10/23's" musical path is so carefully tread that the record seems at times almost poshly eloquent.  The way that William Elvin illustrates love is relatable on all levels.
On the surface, this track doesn't seem like much more than your typical man-with-an-acoustic-guitar-spills-his-guts record that we've all heard time and time again. In fact, it's really not all that different from that approach…at all.
But what I can tell you is that William Elvin does it by the book better than anyone else does it by the book. It doesn't seem like that glowing of an endorsement, but it's truly the subtle things that set this piece apart. The underlying emotional weight, one hundred percent relatable lyrics, and incredibly moving vocal performances all have something to do with it too.
William Elvin has the rare gift of poetic vocals, and what I mean by that is everything he sings sounds like a masterfully composed metaphor because he's the one singing it.
William Elvin on this track shows that much like Jeff Buckley, that he's got the style of a modern singer/songwriter, and the soul of an opera performer. And with his production, guitar work and dreamscape slow builds, William Elvin and the Circus Tour doesn't fit easily into a specific pop music genre. He is his own genre.
OFFICIAL LINKS: WEBSITE – SOUNDCLOUD – BANDCAMP
Please follow and like us: