Italian DJ, producer and model Lord Conrad has been taking the dance and pop fraternity by storm – first with the single 'Touch the Sky', and then with the follow-up "Day After Day". Not satisfied, Lord Conrad burst forward with another power pop release recently, entitled "1 Minute". And just to show that he is a man on a mission, he bounces right back with a brand new track – "Fight Till The End". So, what does he have to offer with his new release? An insane beat to smash dance-floors. He is ready to wow clubbers with his flawless tech/electro/house infused sounds and charismatic performance flair. Yes, because on "Fight Till The End", Lord Conrad goes back to pure, classic electro house sounds.
It's a place where you can expect a four-to-the-flour thumping beat and bin-throttling bass. But the real gusto on the track comes from the air-sucking synth sweeps and dramatically epic breakdowns. Lord Conrad makes synthesizers live and breathe in a way few can.
It's just ear-catching, and it's an example of the sort of thing that makes him such an extraordinary artist in the too-often formulaic world of dance music. Lord Conrad, for his part, obviously counts on his fans recognizing the personal touches he puts into his music, how each of his tracks is the product of his emotional journey.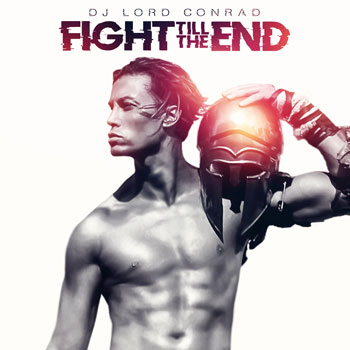 Regardless of the quality of the music, he comes off heartfelt and genuine in this respect every time. Lord Conrad, like most producers of his talent, hits the highest artistic marks when he's not focused on making pop music concessions, and is instead tasked with commanding attention for his potent production.
Lord Conrad is dedicated to being an EDM superstar hence he always crafts something of great value when he is behind the boards. "Fight Till The End" makes a statement that Lord Conrad is versatile in that he can be formulaic to invade the pop airwaves, but also craft songs that go straight for the throat…and the dance-floor.
While an ambitious artist seeking to stay ahead of the curve might shamelessly take up future house, Lord Conrad has done the exact opposite. He's taken the testosterone of electro house to a higher level, managing to make it new and exciting again in the process. It's a blood-racing synth anthem.
You just know that this one is going to be uplifting and, most importantly, super huge. Simply because you can feel it. "Fight Till The End" is bold, brash, and bassy, yet still lovely, clean and organized electro house; something we're very no longer used to with the advent of commercial dance music.
Lord Conrad brings forth his achievement of high caliber musicianship with a genuine excitement, as well as his talent and its capacity to move people. Listening to Lord Conrad is a brilliant experience, in part, because you are so impressed with his creativity. And here he has impressed once again in a massive way
with "Fight Till The End". This track has the potential to make it big on the club scene.
OFFICIAL LINKS FOR LORD CONRAD:
Official Website: http://www.lordconrad.com/
YouTube Channel: http://www.youtube.com/channel/UC6UfXd-b2VsIg8UUd3YFJMw
Personal Facebook: https://www.facebook.com/Conrad.Lord1
Facebook FanPage: http://www.facebook.com/lordconradnasdaqgod
Instagram: http://www.instagram.com/lordconraditaly/
Into Japan Top Music: http://topmusic.jp/product_info2.php?products_id=1617&mihon=1#
News: http://www.lordconrad.com/news
Please follow and like us: