LIFE OF 5AM is a 22-year-old Swiss producer who has been fascinated by the effect of music since a young age. He eventually taught himself the art of music production and has been on his grind relentless for the last four years.  He mainly producers electronic music and hip-hop- The song "Get On Down" represents his EDM stylings with a subtle experimental flavor. This is the first in a series of releases that LIFE OF 5AM has lined up for 2023, to establish himself in the industry marketplace, alongside his popular peers and contemporaries.
"Get On Down" is a short but sweet track, which serves as an intro to this exciting new world that LIFE OF 5AM is finally letting us into. It's a snappy and sophisticated arrangement that simultaneously retains that powerful and driven dancefloor feeling. Throughout the track, the producer shows a mastery of arrangement and harmonic elements that most electronic performers do not grasp – let alone possess.
So while the beat is banging with its forward-pushing momentum, everything else is in perfect harmonic sync with each other. With the release of "Get On Down", LIFE OF 5AM shows off his amazing musicianship, but this can also be described as more mature and developed sound than you can normally expect from a relative newcomer. The track stands out in originality, memorability, and overall quality.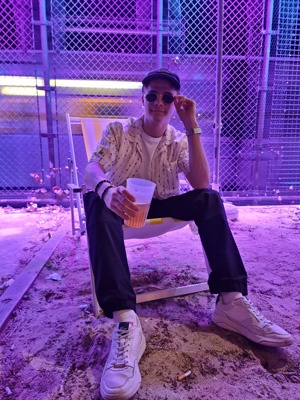 There are enough redeeming qualities about the music itself to warrant "Get On Down" with a recommendation to any electronic music fan. While the concept of gently stretching boundaries is not new, the content itself is.
LIFE OF 5AM is taking a fresh approach without totally ignoring EDM's most popular tropes, as he works to entice fans to join the ride. He delivers rich and detailed songwriting, advanced sound design, and plenty of other elements that make this track stand out.
The composition of "Get On Down" is enlivened by LIFE OF 5AM's ability to weave melodic sounds and kinetic percussion and derive energy from their combinations. He is also able to add texture to busy moving parts.
The ragged vocal shards and synth interruptions peek through the track's bouncing rhythmic surface. The song is at its best when it revels in LIFE OF 5AM's dexterous instrumental tinkering, which is bolstered by his infectious sense of discovery and ear for experimentation.
Some songs try too hard to impress with musical creativity and integrity, while others overdo the search for popularity or and commercial success. LIFE OF 5AM has a little trouble figuring out what he wants to do, and ultimately strikes a perfect middle ground for accessible creativity built into an easy listening experience. Bustling with sonic color and possibility, LIFE OF 5AM pulls it all off with such sincerity and uncomplicated wonder that each sound and melody feels utterly new and exciting.
"Get On Down" is clearly an artistic leap forward for LIFE OF 5AM. It's dynamic and ambitious, as well as personal, avoiding the use of a guest vocalist, and depending entirely on his own instrumental and producing prowess.
OFFICIAL LINKS: https://instagram.com/lifeof5am?igshid=ZDdkNTZiNTM=
Please follow and like us: