Boston-based, but Pittsburg, PA, born and raised, brothers Rome Alexander and Rederic form the musical project The Keymakers. Individually, the boys have been making music for as long as they can remember, but have been working together as a team for just on a year now. Singer-songwriter Rome, officially started his musical journey back in 2010 with his first release, and has since put out several songs to critical acclaim through various platforms. Most recently he had the idea to continue his passion almost exclusively as a writer before taking on this project with his brother. Rederic, on the other hand started his work in music between learning and playing piano, guitar, and drums. In high school, he discovered the world of electronic music production and released his first remix in 2011 and first original production in 2014.
Now as a team, the brothers have been working under the direction of Jesse Christophr and the AMAG artist collective, founded and headed by industry leader Anshuman "AM" Sharma. And even though the duo has already collaborated with high profile artists, as well as earning their first placements they are eager to progress with their own performing career. Hence The Keymakers dropped their debut single, 'Good for You' during September. A sensuous, gritty, and unabashed emotional output of sustained excellence.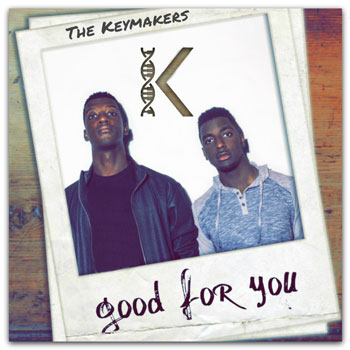 The track surpasses many other current R&B works because it includes the maturity of two growing young men who are willing to reveal a refreshing vulnerability that many other male R&B artist are incapable or unwilling to reveal through their music.
Talking about the lyrics, Rome said that "We all mess up sometimes, and neglect the people we care about. No one's perfect. But this song is about owning those mistakes, the constant effort to be better, and the person that makes that process worth it."
The sound hinges on two elements — the duo's special mix of ultra-modern electronics and smooth R&B with subtle tinctures of old school flavoring. The business of Rome Alexander's soulful vocals and the tight harmonies against the bouncing mid-tempo sonics gives the song its sound variety and intensity.
There's a strong sense of the present in the production, as extracts of catchy Top40 Pop hooks and flowing EDM timbres come to the fore. It gives the sound a rich, deep, yet spacious setting, while the song structures make savvy use of the duo's essential approach to melody.
In short, much of what makes The Keymakers such a memorable new act is the same thing that has always made old school R&B music so appealing – their willingness to be honest and vulnerable without sacrificing one iota of their virility. Added to their modern sound production, that adds up to a killer musical formula.
So while the youngsters will gravitate to the trendy sound, the more mature will fall prey to the classic storytelling style. The Keymakers' approach to the tune reflects the commercial demands of today, as defined by the advance of electronic elements. But at the same time maintains the melismatic characteristics of the genre's roots.
However 'Good for You' is no opportunistic cash-in on the genre's legacy, this is a confident, refined affirmation of a new subject now present at the table – a necessary one in a field starving for duos or groups with collective ideas. Rome Alexander and Rederic's earnestness and enthusiasm helps them overcome clichéd lyrics and melodramatic vocals, and there are plenty of great moments sprinkled throughout this track to make it worthwhile for any urban contemporary listeners.
OFFICIAL LINKS: WEBSITE – TWITTER – INSTAGRAM – SPOTIFY
Please follow and like us: