Hailing from Austin, Texas, the independent pop artist, Jxckson sets out to take his melodies and lyrics to the next level, making songs that tell a story and that listeners can relate to. It's easy to make assumptions that Jxckson is your average-Joe pop artist, but that's far from the case. Slow built-up melodies are in abundance on the EP, 'Shadows', creating a melancholic, meandering feel. The EP is honest and raw and is an intriguingly articulate one with plenty of slow burning rhythm that blends electronic and acoustic driven soundscapes with serious lyrics to really get you thinking.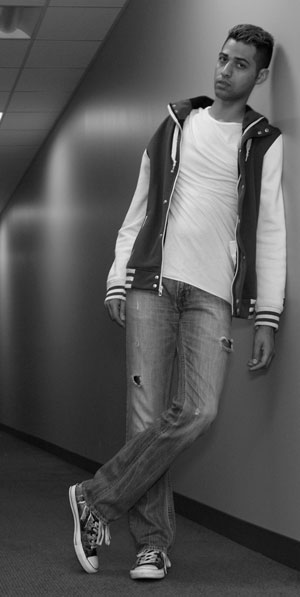 This release is full of fleshed out, bold tracks with lyrical depth that grows more and more with each play. Track one, "Second Chances", is the first on the EP to feature an acoustic-guitar backdrop with the characteristically deep vocals by  Jxckson as he pours his heart into the tune repeating "We're running out of second chances" paired with a mid tempo tune and a handclapping bounce.
Much of the material on 'Shadows' is of the alternative pop-rock variety with each song playing into a soulful sound paired with lyrics so deep they stick with you long after each listen.
There's a quirky balance at work within "Watch It Burn" and "Checkmate", two captivating transition songs, which find themselves subtly blending smooth and sultry beats into an escalation of bigger, bolder almost frenzied waves of electronic sound that on a first listen definitely come off a tad confusing, but with some more listens the crashing waves of music definitely become less daunting and begin to grow on you in a big way, until they become your favorite tracks.
'Shadows' is smooth and effortless with the promise of something spectacular imminent. You'll open your heart and soul to this record and it'll give back to you tenfold, the music is a comforting sound that takes the edge off the austere stories which are unveiled in each song.  Jxckson's ability to tap into the most somber aspects of life and mix it into blissful bubbles of sound is something to be noted.
Sometimes Jxckson develops an almost downtempo vibe which is contrasted nicely by subtly addictive melodies and the chillest beats. Transitioning from its distinctive alternative flavor to more of an experimental convergence of R&B, pop vibe, It's easy to get lost in the recording, which means it's very effective at maintaining a hypnotic and mystical mood consistently.
And though the album has a chill, sometimes moody vibe, it never fails to offer enough variation that is typically necessary to captivate the audience and keep listeners interested. This is mainly due to Jxckson's deep resonating voice, which changes a gear a few times. In the end 'Shadows' is an emotional and intimate album, with hauntingly beautiful music and many stellar songs.
OFFICIAL LINKS: WEBSITE – FACEBOOK – SPOTIFY
Please follow and like us: