John Tafaro has been producing since the early 90's, beginning with helping local bands get needed exposure through his public access show "Turn it Up!!", since then after a chance meeting with Mark Tinley a digital audio expert and who also at one time programmed keyboards for Nick Rhodes of Duran Duran, John decided to take his music production skills to the next level. John composes and arranges mainly Smooth and Contemporary Jazz.
During March, 2016, John Tafaro released his single "In Time You Will See", featuring Grammy Award-winning, Los Angeles-based contemporary saxophonist, Eric Marinthal, and one of the founding fathers of fusion, keyboardist Jeff Lorber, as well as drummer Ricky Lawson, co-founder of the Yellowjackets and who has collaborated with the likes of Stevie Wonder, Michael Jackson, Eric Clapton, Phil Collins, Whitney Houston and Steely Dan.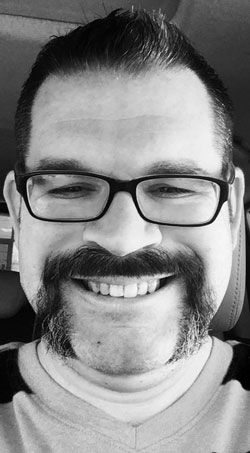 True smooth groove is part of the core of John Tafaro's sound to begin with, and on "In Time You Will See", he and the other musicians involved all really reach out for that groove, and stay on it in as many different forms as they can possibly muster. Eric Marinthal's saxophone punctuates the bass and rhythmic aspects of everything that is happening instrumentally on this track. So even if a melodic line is not particularly intended to be right in the pocket of the groove, it ends up being locked right in there due to the expertly played lines, riffs and phrases.
Jeff Lorber and Ricky Lawson, have a really easygoing, great sounding vibe with this track. They do nothing transcendental but keep it tight and dynamic, as well as having a focused live-feeling. John Tafaro's composition delivers simple but creative instrumentation with room for great melody, cool harmony and soloing, if and when it is needed.
Predominantly a showcase for Marinthal's sax, the arrangement is full bodied, sophisticated, mellow and mature – both in its production and performance. "In Time You Will See" is as soothing as it can get; a perfect means to escape the hustle and bustle of life, and move to a peaceful dimension. It is a healing potion to any and every soul.
In spite of the players, don't expect too much virtuosity, as they never stray too far from their comfort zones, but rather savor the accessibility with harmonic sophistication on display here. John Tafaro's music is the kind of music you lay in your couch after a hard day's work with and just drift away together with the vibes and groove it produces.
OFFICIAL LINKS: SOUNDCLOUD – CDBABY – ITUNES
Please follow and like us: