JERA is an Alternative-Metal composer and solo music project from USA. Established in 2019, JERA has already released previously released two albums, and a series singles, with the latest single release being "The Muse". JERA plays all the instruments – virtual and real – forges vocal interludes when needed, and produces everything himself. Once relegated to the fringes of the music scene, this blend of industrial and instrumental hard rock has been growing into one of the most popular styles of metal. The project's ability to craft a whisper-to-a-scream sonic foundation or simply change gears on a dime, is the glue that holds JERA's songs together tightly.
On "The Muse", JERA continues to find new and inventive ways to mix virtual orchestrations with real instrumentation. The slow-burning, four-minute instrumental, with minimal vocal embellishing, is a perfect example of this, as the song manages to ebb and flow without ever losing its sense of drama and momentum. It drives home the point that JERA is willing to experiment for the sake of advancing his sound.
Rather than hammer away with the same progression and aggression for fifteen minutes at a time, like many of his counterparts, JERA has managed to refine the instrumental metal formula by harnessing the ever-effective power of immediacy. From the quieter piano-driven passages and tempo changes, to the vocoder-induced vocals, whispered growls, and screaming lead guitar solo, all of the classic elements are in play here.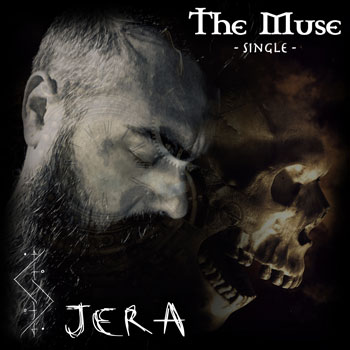 JERA showcases both a dynamic command of his instruments along with a penchant for crafting evocative moods via a mostly instrumental arrangement. The sparse vocals are used to add more atmosphere and mood to the composition.
This is the sound of an artist plugging in and letting off creative steam, while shifting through the gears with bulldozing efficiency. JERA at his best, is one of those artists whose music is so evocative that it drives your senses through landscapes, scenery and emotion, which all fuse in the mind.
Running through his catalog, I really can't stress how well JERA balances monolithic heaviness with complex, tasteful melody. "The Muse" is clearly one of JERA's most accessible songs, leaning more towards melody and mood, than outright aggression and heaviness. The intensity however, never lets up, as the song morphs between its tempo changes. The resonance of the piano chords strikes a dramatic tone into the arrangement, making it majestic sounding.
Being a single, it may be a brief listen, but there's a lot to respect and enjoy about "The Muse". JERA shows us that he is not only willing to incorporate vocals into his songs, but also that he knows exactly how to do it specifically for his kind of music. The vocals enhance JERA's sound and build on the impressive instrumental work that is the foundation of his music, instead of taking away from it.
Regardless of how you exactly classify this sound, JERA makes an undeniable impact on alternative metal music here. "The Muse" is a leviathan of a track, an emotional, epic, and imaginative example of how this style is done right. The resulting music is infectious and affecting, in a song that is filled with emotive beauty, nuanced introspection, and a resplendent aura. Well-written and carefully crafted, "The Muse" is a great way for JERA to become known to the world.
OFFICIAL LINKS: BANDCAMP – SOUNDCLOUD – YOUTUBE
Please follow and like us: