Establishing himself as a force in hip-hop with 2018's "Love Hurts Less", J-Halliday popped up both online and in the streets with an unexpected mixture of Philadelphia (USA) suburb hip-hop sensibilities, and Manchester (UK) alternative rock gusto, mixed with traphouse melodizing, like the mutant offspring of a fusion between all extremes. J-Halliday wordplay is what sets him apart from the seeming glut of singsong rappers, as he fills each verse with colorful imagery delivered in easily digestible metaphors. He doesn't mask his thoughts and aspirations, so much as he does dress them up in neat verbiage.
The alternative hip-hop artist is great at communicating his mindset and emotions. And his latest single release "Safer 2 Jump", provides us with more food for thought from this fully independent artist who shoot a podcast episode every week, and releases new music frequently.
The slow-burning beat is absolutely amazing on "Safer 2 Jump", with the atmospheric keys playing in the background and the throbbing bass sound just making the track that much more resonant, while the hi-hats gently skitter around the edges.
There was many ways J-Halliday could've hoped on this track, but he executed brilliantly with the flow he chose. "Shorty is stubborn, she used to whatever she want. She want to see me, she thinking I could be the one. She see that I'm on. Money ain't changed me, I'm still been the same from the jump," exclaims J-Halliday.
"Safer 2 Jump" shows how cleverly J-Halliday has honed and chopped away at his sonic distillation. He's made us aware of his sonic progress and purification process step by step with a series of singles, which now culminate in this earworm.
Beyond lover-boy romanticism, there's ruminating introspection to be found on this track, as J-Halliday investigates the intricacies of relationships, and the power of his grind. Words about overcoming trust and compatibility issues stand out as much as the melody.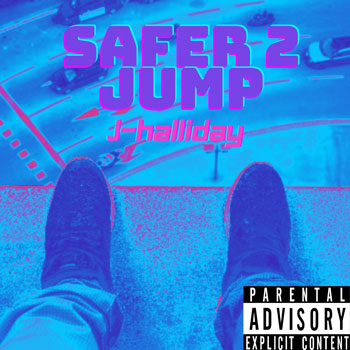 "Safer 2 Jump" is immediately J-Halliday's most listenable work, and may well be one of the catchiest singles you'll hear in 2020. He proves his melodic capacity to be significantly more expansive than many of his contemporaries, while the airy production and constant focus on his resonating croon, streams into you relentlessly.
J-Halliday not only has the ability to write lyrics that cut straight through a listener and get at their emotions, but he also has a twist in his voice that accompanies his words perfectly. In fact, everything about J-Halliday suits his music very well.
"Safer 2 Jump" has catchy choruses, melodic vocals, and unsurprisingly insightful lyrics; it's everything modern music fans could wish for. J-Halliday is an artist that can't be pigeon-holed into one single box, as each of his releases really shows off his musical range and varied capabilities.
"Safer 2 Jump" is a highly accurate reflection of his talents. And the talent of J-Halliday stems not only from his vocal capabilities, but from his thoughts and emotions, which he boldly shapes into lyrics, and ultimately into great songs, like "Safer 2 Jump".
OFFICIAL LINKS: WEBSITE – INSTAGRAM – FACEBOOK – STREAMS
Please follow and like us: