The music of the hooyoosay, for me, has always been a futuristic retro-pop narcotic. Their summer track, "Palm Tree In My Garden" is yet another bittersweet pill to pop for society's financially stable, but emotionally unstable, middle-to-high class, chauvinistic leprechauns. The track has been slated as "a happy beach-pool-summer fun song". Esthetically and sonically yes, but on the inside it launches a scathing attack on probably this era's most devastating affliction – loneliness.
The uncredited members of hooyoosay, have once again hit the nail perfectly on the head. The message of happy-on-the-outside, sad-on-the-inside is concisely described via the jangly and funky, happy-go-lucky rhythm and sound of "Palm Tree In My Garden" – the apparently lighthearted, oblique lyrics, tell a whole different story though.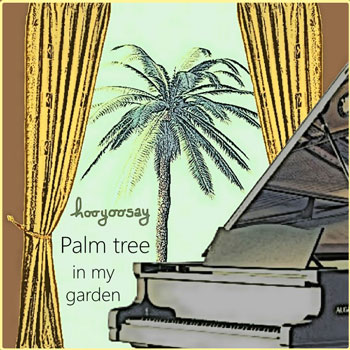 Seriously folks, this is a fun song if you just let it ride through your ears. The melody and hooks are really hard to resist as is the piano and that rolling snare drum. Not to mention the squawking guitar, freaky synths…and ooh those sweet cheerleader harmonies!
But if for one second, your mind was able to switch the vibrant music down and let the lyrics sink in…you'll discover that in their simplicity they say something profoundly true about our fragile society. I've lived a longtime now, maybe longer than I care to remember, but never in any other decade have I seen so many lonely people.
Never have the wealthy been wealthier, and to be honest, never have the poor been poorer. But in the midst of this, never has a generation had so many ways to find, follow and like each other. From ever possible photo-shooting, message-sending electronic gizmo and app, to the plethora of social media platforms – never has so many people KNOWN so few others.
Yes I know – we find them, we follow them, and even like them, but we never really know them, and that is exactly how you end up being like the character in "Palm Tree In My Garden". You have everything you want, but not the one thing you need!
And for me, hooyoosay bring that message across with absolute, subtle brilliance. Whether it's intentional or not, really doesn't bother me in the least. I have long ago dropped the idea of judging music, by how much the other guy is putting into it, but rather by how much I'm getting out of it – with hooyoosay my bucket is always overflowing! And that's damn near good enough for me to give them 5 full stars!
OFFICIAL LINKS: WEBSITE – FACEBOOK – TWITTER – ITUNES – AMAZON – BANDCAMP
Please follow and like us: