2019 sees Atlanta-based Hookdiggy, continuing his growing momentum and his promise to put out well written hip-hop that appeals not only to fans of the genre, but fans of creative and innovative lyrical content. In fact he goes beyond that with his latest track, "On My Way" ft. Sunja Dannette. Utilizing full-bodied smooth instrumentation, Hookdiggy manages to pull off an almost cinematic-like ambiance throughout. The intoxicating mix of jazz, hip-hop, and neo-soul with a dash of dance is maintained at a very high level from beginning to end while the musicianship is top-notch every step of the way. Hookdiggy, together with Sunja Dannette is the driving force throughout this track. It is his vision of creating a hip-hop hybrid, combined with talented musicians which bring the music alive and add a performance depth on the track, one which you would usually get from a live show.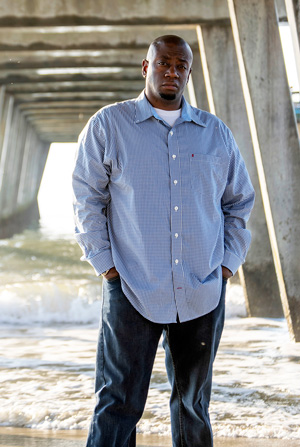 From the smooth tones of the rhythm section, which complement the self-assured, soulful vocals laid down by Sunja Dannette and the riveting cacophony provided by the array of verses projected by Hookdiggy, the song delivers admirable bounce and power from such a velvety luscious sound.
It is a strong demonstration of interwoven vocals, raps and instrumental patterns, where one element will allow the other to perform their nuances before coming together as a formidable force. The syncopated, intricate rhythms and patterns are full of vibrancy, as they aid in the song reaching its full feel-good potential.
It is evident that the funk-fused, jazz-centric hip-hop track is sonically superior to its contemporaries, and is a testament to Hookdiggy's perpetual ability to be as diverse as possible. In amongst the sterling choice of production, there is the structure of the song and the ability to create one of the finest jazzy hip-hop grooves in the last couple of years.
Hookdiggy proves that he is one of the most relevant underground acts on the scene, whilst being daring enough to incorporate varying aspects to his music to gain an entirely new segment of fans. Songwriting is definitely at the basis of the song's charm.
Hookdiggy is a connoisseur of good music, his songwriting and performance goal is the pursuit of a great song, while his identifiable voice and delivery serve to provide a cohesive, identifiable sound, with an engaging, original edge.
In "On My Way" he is supported by co-writers Sunja Dannette and Melanie Rutherford who help give the song a 360° appeal. And behind the boards, Hookdiggy also shares production time with Rashad Myers to complete the credits. That's how he makes a name for himself as a creative with a lot of professional and musical integrity as well as consistency.
"On My Way" ft. Sunja Dannette represents not only Hookdiggy, but Second Half Entertainment and the team of musical people paying attention to their craft, and trying for a better sound, as they work off each other's strengths.
In fact the song lyrics speaks about Hookdiggy's driving ambition, while the music clip's visuals, shot by Brent Lambert-Zaffino from SilverHook Studios, emphasize the team work necessary for success. If you don't own any Hookdiggy music yet, step up now and let this one hit you on full volume. Isn't it time you heard some real music?
OFFICIAL LINKS: WEBSITE – FACEBOOK – TWITTER – INSTAGRAM
Please follow and like us: