With 'Dat Music', the rap world will hopefully comprehend the immense talent of the Central Florida resident, Harlem Wood. With all his releases thus far, there is mind-boggling improvement and expansion of his hard-hitting lyrical aesthetic, because just when you think the New York born rapper and producer/beat maker has outdone himself, he comes out with a track like this. Known for the songs 'Fire Weed', 'U.S.A.', and the instrumental albums 'Pandemia' and 'Dopamine Instrumentals', Harlem has produced music for numerous acts from Miami to Jacksonville.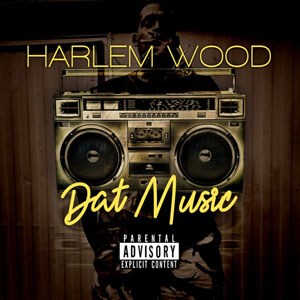 Lyrically, Harlem Wood has the skill to create fully-fledged narratives of any topic he chooses to elaborate on. With songs like 'Dat Music' the listener feels like he is right there next to the rapper, glimpsing the experiences of his grind and hustle from real close up.
The track sounds like a sonic gallery of his skillset, as Harlem exhibits his phenomenal agility to switch between his aggressive bark to a free flowing cadence over a dark, cascading beat.
Along with Harlem Wood's talent for writing storylines and his often vicious flow, 'Dat Music' is filled with an impressive hard-hitting beat. And as with every hard-hitting soundscape there is always a hard-hitting message charging behind it. For me, that is why this track is truly exiting to hear because it's a witness to an independent rap force fully realizing his potential. Its Infectious and jaw dropping to say the least.
Harlem Wood may be one of the lesser-known names leading the pack right now, but one listen to 'Dat Music' and you'll find yourself rummaging through any and everything that he's done so far. You can tell that with a bit more focus and luck he could blow up big amongst the heads in the game.
His bars alone on this single show why he's so good and every ounce of promise is fulfilled here. With the keys providing a haunting backdrop to go in on, he delivers explosively and relentlessly.
Harlem Wood's lyrical attack separates him distinctly from his contemporaries. It's more fresh, yet classic and full of conviction, playing off the fire the beat packs inside. The way his syllables flow, is so savage and so intense, never skipping a beat.
'Dat Music' brings out his wordsmith qualities to the max. It highlights the cerebral core of the rapper and reminds you that he really is an outstanding storyteller. Take in this track and prepare yourself for a rapper whose mind and soul is ready to make statements.
Harlem Wood's performance on 'Dat Music' makes him stand out way above the lean soaked waves of his mumble or melodic rap classmates. We know that there will always be one generation that claims their era's popular styles are what "rap music is supposed to sound like". And that argument will be had until the end of time.
However, an artist like Harlem Wood proves with his wordplay and flow that his delivery and sheer technical ability should never be in question, regardless of what you think "rap music is supposed to sound like".
OFFICIAL LINKS:
Instagram: https://www.instagram.com/officialwood
Facebook: https://www.facebook.com/therealharlemwood
Twitter: https://twitter.com/HarlemWood
YouTube: https://www.youtube.com/channel/UC0jMAWhhkPOhllvUY5ejw9Q
Please follow and like us: