From the moment you plug your ears with the kinetic bass-banging groove on "POP GLAM" (Ultimate Edition)", your mind is sent on an electronic journey that'll just make you want to move non-stop. Not only that, but sticking to their true style, Australia's electro-pop group, GROOVE STATE, boasts some mega powerful vocals which drive the epic beats into your sound system with a vengeance. With a sterling mixture of synths, club sounds and frantic drops, GROOVE STATE balance their catchy anthemic style and create the best of the best when it comes to modern electro-pop. As well as that, the track-list compiles to give off a real summer ready vibe.
I know we're in the throes of winter, but GROOVE STATE exist on the other side of the planet, where the sun hangs real high right now. "POP GLAM" (Ultimate Edition)" is a 17 track eargasmic journey which is first and foremost a spectacular dance record. But it's also an album that the listener can also take time to enjoy, and interact with the multiple structured sound waves that envelope the auditory senses from one track to another.
GROOVE STATE take action immediately from the opening track, "Go It". The arpeggiated synths suggests that something is coming and that we should brace ourselves. It soon builds into a killer rhythm booming with bass and groove.
"Do You Want My Love" delivers aggressive, distorted and wobbly synths. On top, the melody soars towards being a real crowd pleaser. Up next is, "Gucci & Dior", which has a more futuristic vibe to it. Though playful, it evolves into an edgier sound.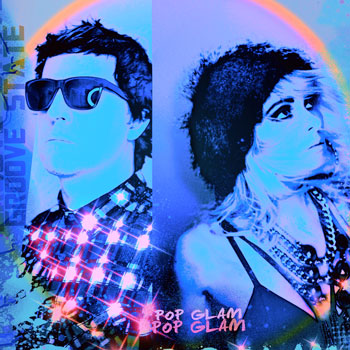 "Disco Disco" has the sound of another crowd pleaser, but that can already be gauged by the track title. The basslines are the strength of this cut, which is an obvious club killer. The beat gets harder, and the pop sensibilities come fuller and faster on "Get Sexy", where the vocal adlibs will have you chanting along.
Things come to a climaxing head on "So Hot", which is also supported by a steamy and sweaty visual clip.  Here GROOVE STATE literally turn up the musical and vocal heat. The back to back tracks, "The Club" and "Dance Floor" are another set of true dancefloor annihilators, thanks to those ricocheting basslines, and tight, mellifluous vocals that GROOVE STATE are able forge almost infinitely.
Lisjana on vocals, and producer DJ Deep G – the duo who make up the core of this collaboration – truly knock it out of the park here. Not that they discontinue to do so moving forward. The proof is evidenced on the winsome "Fly Away", and then certified on the thumping "Dance All Night".
Flowing into a massive percussive build-up packed with tons of rising synth effects, "Tonight" breaks into being a throbbing thriller. Robotic and urgent, with busy synth basslines and twisted melodies, "Living For The Music" is another track with hints of a futuristic vibe.
And while we're discussing the future, it's fair to say that "Get On The Floor" is what classic big band swing will sound like in 2050. Its back to the dancefloor grindstone on "All I Ever Want" where Lisjana vocals shine triumphantly, against an ever-evolving backdrop.
The album's club-styled energy continues to thrive on "Get Down Tonight", "Gimme Gimme What You Got", and the album closer "Gucci & Dior – Alt Mix".  For one thing, this recording is probably the year's most instant and insistent beat-driven album release.
It does an exemplary job of raising both dancefloor hell and singalong pop groove. It's a restless creation that glances into the past, while stepping into the future. As a fan and listener of GROOVE STATE's music since 2014, I definitely suggest you check this album out.
Listen to @GROOVESTATE
STREAM ALL MUSIC BY GROOVE STATE
Link to streaming platforms:
https://fanlink.to/groovestatemusic
Follow & Connect:
https://www.groovestate.com
https://www.facebook.com/groovestate
https://www.twitter.com/groovestate
https://www.instagram.com/groovestatemusic
Please follow and like us: