When we listen to award-winning Americana singer-songwriter, Grant Maloy Smith, we often hear a shrug, a battered heart, and the steely reason of hard-earned wisdom all bundled into a single powerfully ragged voice that resonates rather extraordinarily with the plight of mankind. Smith has a gift for articulating the predicament of the downtrodden and misunderstood. A knack for stepping inside his fellow man's shoes and feeling the wear on the sole, the dirt between the treads, and the awkwardness of the fit. Explaining the making of the album "DUST BOWL – AMERICAN STORIES", Smith stated: "The songs spell out an arc from the pastoral beginning, when wheat prices were high and times were good, through the darkest days of suffering and struggle, and ultimately to redemption – when finally the rain came down.  Dust Bowl has been a labor of love for most of three years now. As much as I created these songs, they have changed me, too."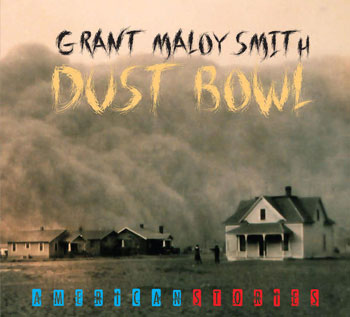 I'm beginning to think Grant Maloy Smith is a genius. It's one of the ironies of the music business that he is not hugely, enormously, grandiosely big. Smith is every bit as talented a songwriter as any latter-half-of-the-20th-century roots music composers I can think of.
Smith is one of the few who makes you understand, appreciate and enjoy the undeniable link between music, people and nature. "DUST BOWL – AMERICAN STORIES" makes a clear case for this link without ever sounding like any other singer-songwriter I know of; another testament to his outstanding songwriting and performing talents.
Grant Maloy Smith's songs are like musical snapshots of real life. The songs run the gauntlet of emotions, from anger to joy, from melancholy to heartened, from love to loss. "DUST BOWL – AMERICAN STORIES" has it all.
It amazes me how Smith can blend the various song styles into a recording that flows so effortlessly, as he moves though Bluegrass, Country and Folk themes – All naturally held together by his extraordinary voice and range.
From the moment I put on the first cut, "Old Black Roller", I couldn't believe how the music saturated me, and how I wanted to hear it again, catching the words, and the intonations before going on to the second cut, "Lily Of The Valley", which was even more addictive than the first.
Though Grant Maloy Smith is brilliant on just about everything he does on this album, to my mind, he is exceptional when it comes to the slower songs. His voice has that heartrending broken tone that squeezes every bit of emotion out of the lyrics.
Hence my fervent attraction to songs like "Isht A Lhampko (Have Strength)" – probably one of the most captivating tunes on the entire album for me.  But he is just as moving on "All The Long Way", "Daddy, If You Have To Go" and "And The Rain Comes Down". It helps of course that the list of instrumentation and players on this album is almost endless. Injecting a warm luscious sound into the recordings.
If you have a predilection for rhythmic, upbeat numbers to stomp to, then "So Far Away", "Me Time" and "I Come From America", will do nicely for you. All the songs on "DUST BOWL – AMERICAN STORIES", however, are skillfully written and instrumented, crossing roots genres and throwing a healthy bite of social commentary in your face to remind you that Smith is nobody's top 40 wimp.
There are only a small handful of artists on this planet at any given time worth listening to musically. Grant Maloy Smith is definitely one of them.
OFFICIAL LINKS: MUSIC PAGE – TWITTER – FACEBOOK – INSTAGRAM – YOUTUBE – SOUNDCLOUD
Please follow and like us: