Born Camden Lamar Parker, MacPhresco grew up in Goldsboro, North Carolina, where he always had an interest in music – from creating homemade drum sets to free styling during lunch periods. His major influences are Drake, Lil Wayne, Young Thug, and the Notorious B.I.G. At the age of 16 he began writing and practicing his rapping skills on a more serious note. By the time he graduated high school he began to truly perfect his craft and fall in love with music. With his versatility, you can expect all types of music from him. MacPhresco can rap on any beat, while giving you that true all around hip hop sound, and melodic R&B feel, with a touch of pop and a dab of blues.
MacPhresco's latest release, is the 12 song album "EVOLVE, Vol.2: The Soul".  Technical prowess and lyrical complexity are skills hard to come by in an age of showy mumble rap and buzzy trap beats. It is in these areas where the auspicious Goldsboro rapper MacPhresco showcases his appeal. On his latest album he combines the much flaunted new wave vibe as well as the futuristic sound of modern rap with profound insight into contemporary stylings of the genre.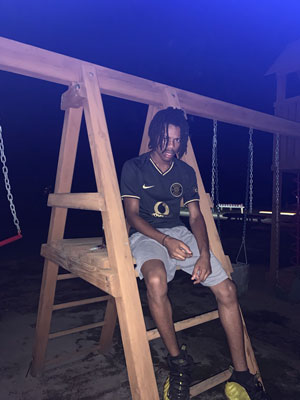 Throughout his work, MacPhresco is reaching for meaning and gravity, just as much as he hits you with topical lyrics and captivating vocal twists. "Wake Up" provides a strong opening to the album, building hype and anticipation from the very start. Asserting self-confidence and assurance, he steamrolls his way through "I'm Back", "Stack Anyway" and "Feel This Freestyle", dealing out a triad of bangers that will hold your attention.
This latter track is a musical analogy for being secure with his own talents and abilities regardless of what others think and is an inspiring anthem for self-esteem against external pressures. "Higher" with its squealing synths, is MacPhresco at his best: a voice of forward thinking sonics against the stale musical tropes of rap mainstream.
"Sucker Free", "Leveled" and "Chances" continues MacPhresco's blitz on the conventions and norms of rap culture, as he delivers psychedelic soundscapes and eccentric flows. "Chances" ft. Papercha$ing exemplifies what the ideal student of the new game sounds like — someone who's conscious of how a hook presents itself, how to control their melodic delivery and how to diversify their lyrical bonds.
Consistently adapting to the beat behind him, MacPhresco maintains a steadfast pace that is barefaced and controlled on the honest "Fell In Love". "Backyard Backwood" presents the rapper's phenomenal wordplay and moody delivery. MacPhresco's infectious energy carries a victorious feeling throughout. The album promptly closes with "Like Mitch".
All throughout "EVOLVE, Vol.2: The Soul", MacPhresco actually presents thoughtful ideas through his relentless efficiency and intensity. He's got a lot to say, and he doesn't take long to do it. Finally there's someone worth mentioning amongst the crowded new wave movement.
Connect with MacPhresco and his music via https://linktr.ee/macphresco
Please follow and like us: