A multi-instrumentalist, vocalist and producer, GANA (aka MARS GANA/ARA THE ARCHITECT), who was born and raised in Sacramento, California, first discovered her passion for performing when she was just 7 years old. Gana has since completed hundreds of performances, at a number of prestigious venues across the USA, including the Times Square Arts Center, the Grammy Museum, the House of Blues and the California State Fair, just to name a few. In between, she has found the time to record and release music that spans various genres and styles.
Currently working towards the global release of her album "ANAGRAMS", set for 31st August 2016. In the meantime she has dropped the sparkling single "DAYLIGHT", which highlights a great style that manages to balance understated, symbolic lyrics while conveying a fierce aggression just below that surface.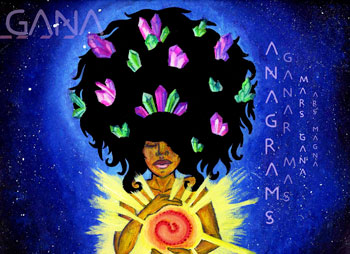 Gana's artistic vision dances cleverly at the very edge of brilliance. There are enough similarities to electronic, pop, alternative and soulful infusion you'll be familiar with, but Gana will push you out of your comfort zone with choices that, in the hands of a less powerful artist, would fail. She navigates between cool seduction and bold experimentation like an acrobat on a taut trapeze, using evocative and compelling musical gestures where anyone else would vacillate and fall.
Extravagant harmonies, a dreamy soundscape, changing tempos and a multi-layered song structure are used to great effect on "DAYLIGHT", challenging fickle mainstream pop norms. The challenge of teasing audience expectations and manipulating her artistic persona at will is just as great. Through this song Gana shows she can pull it all off expertly, blurring the borders and limitations of conventional music norms, while locking the listener into her warm and surreal world.
Throughout "DAYLIGHT", she asserts her musical identity while also refusing the idea that it should be easily assessed and defined at every turn of subtlety or strength. Pop stars often present a simplified existence within their musical vision, which is what allows them to establish a common denominator for the masses to converge upon, while Gana encourages and empowers pushing right through that filter into another dimension of musical appreciation.
The track details the processes of escaping the mundane, and emancipating ourselves from the varying limiting chains we are presented with each day. The visceral pull of her introspective narrative, grows with each entrancing build and hook, as she adds her own complicity: "I'm a modern day slave to materialism, like a machine I crave to engage in humanism…"
While Gana can be cryptic, she is also capable of being outspokenly straightforward. Sometimes she may appear to be more a creative art project than a mere musical being, yet underneath she continually lays her humanity bare. The conflicting emotions, the soul searching and the will to uncover life's truths – these are the sounds of a fully evolving creative person conveying the totality of her art in a way very few artists can.
OFFICIAL LINKS: Artist Website – Soundcloud – Youtube – Facebook – Twitter
Please follow and like us: