There's nothing safe about "An Awful Lot", the debut album by Knoxville-based composer Forrest Wentzel. For starters, depending on your musical taste, you could call it a whacked surrealistic masterpiece. It is an ambitious and uncompromising listen, blending resonating chamber orchestrations with saccharine synths, and fiery electric guitars, which in turn support spoken word samples, rich harmonies and Wentzel's sonorous baritone. All of which are woven into kinetic and eclectic arrangements that defy convention and eschew categorization. Some would say this is album is acquired taste and I would partly agree. I wasn't very optimistic, yet when I listened to it, I instantly fell in love with this record.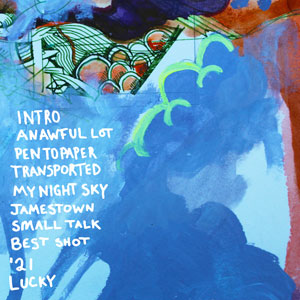 As long as you have an open mind about music, after few listens this album will inevitably reveal its hidden beauty to you. If you're technically inclined, there's easily lots to chew on, but even if you're not, the simple sonic gorgeousness of the vocal harmonies, and the lush instrumental blends, are truly enchanting. I believe that Forrest Wentzel has created a piece of subtle genius here. Well, considering the boldness of the arrangements, maybe not so subtle.
In the current musical climate, "An Awful Lot" may take the cake in terms of being avant-garde, unpredictable, and abstract, with the sheer ability to stupefy. The energy, the attitude, and the instrumentation all scream out creativity. This is the kind of album that makes you think about music differently, makes you analyze music differently, and forces you to forget most of the things you thought you appreciated about music beforehand.
All of the aforementioned elements kick into action right from the opening track "Intro", where strings and horns cascade into tunnels of sonic bliss. But it's not long before we're caught right in the middle of elegant, ear-warming melodies and crunchy electric guitars on the title track "An Awful Lot", followed by playful synths, and spoken word samples on "Pen to Paper", which is broadly defined by its baroque-pop electronics that burst with immaculacy.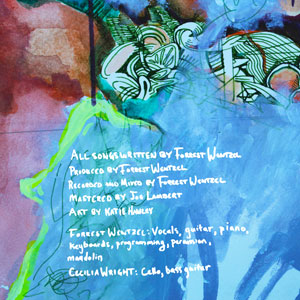 Jaunty and ethereal melodies juxtapose with wryly wrought cellos in "Transported", underneath the whisper of Forrest Wentzel's nuanced voice. "My Night Sky" is launched by a choral intro and a dominant piano which maintains the song's momentum, under the fluctuating vocal escapades.
Wentzel's abiding gifts for melody, and clever, quirky lyrics, crafted with precision and attention to the classic virtues of the songwriter's craft – meter and scansion, rhyme and rhythm – are honed to a peak of perfection on both "Jamestown" and "Small Talk".
"Best Shot" is coupled with an ever-present sense of futuristic surrealism and the wit of a vintage songwriter, while "21" is more concerned with the latter, showcasing a striking falsetto and gorgeous harmonies. "Lucky" is wonderfully woven, fractured, turbulent, and jittery.
The song takes twists and turns and is full of melody, synth whimsy and incredible arranging. In all, this album offers nearly everything one could expect from an artist who pushes himself in new and different directions. All throughout "An Awful Lot", Forrest Wentzel maintains a high level of musicality and deft lyricism that dabbles both in the complex and the profound.
OFFICIAL LINKS: INSTAGRAM – SPOTIFY
Please follow and like us: