Des Wallace is a young Haitian-American artist from Jamaica Queens NY. Wallace is using his music to fuse sounds and blend cultures. His mostly instrumental EP "A.D.", is a deep, cerebral record, with many layers to mine, both metaphorically and materially. The composer and producer, moves through a varying blend of Latin-tinged sonic flavors with regularity and ease. The tracks bring together a myriad of sonic elements from the far reaches of Latino-urban concepts, spiritual folk and jazz meanderings, electronica and organic improvisations, as well as head-nodding and foot- tapping rhythms that coagulate from ear-warming world music ambiance.
To execute such a complexly blended aesthetic so convincingly is rare, to achieve it with such clarity of vision and technical expertise, denotes a quotient of passion. Des Wallace's compositions shape shift continuously, and when you give up trying to process all the intricacies, and just sit back and enjoy, these pieces will leave you totally engrossed – both rhythmically and sonically. From the moment the EP opens with "Diaspora", the music is fizzes with electricity and warm.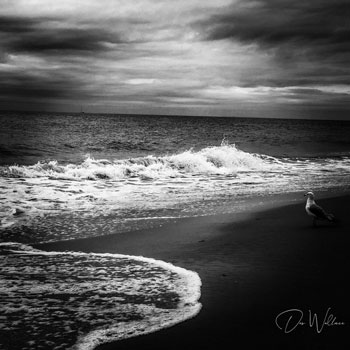 The guitars and percussion are clean and crisp, fidgety but simultaneously at peace with themselves. Des Wallace's musical pieces, both excite and soothe. Wallace is trying to capture the energy of life, by reigniting sensations that will melt the iciness of the contemporary world which has been plagued by quarantines, social distancing, and marginalization. The dynamic and enchanting rhythms of "èclairè" and "Prier", will achieve just that.
Moving forward we encounter "Jambon", a particularly vibrant track, driven by a dominant bassline, driving horns and shuffling percussion. It also introduces some soulful vocal samples. Though kinetic, Des Wallace's production is never spasmodic. Despite the artifice of rhythmic movement, this avoids becoming bombastic music, and every arranging or sonic choice Wallace makes, has a clear intention behind it and feeds back into the whole.
Even "D'eau Mour" with its loudly expansive percussion, swirling keys, and vocal interludes, remains smoothly captivating to the ear. It's on the melodically inclined pieces like "Weeping Roses" that Des Wallace comes into his own. On this track especially, you will uncover a handful of sonic surprises that jump out of the arrangement at you.
Des Wallace has meticulously crafted "A.D.", having in mind current and recent events:  "Vast sounds of profound emotions have surfaced in the era of COVID. As times have changed, so have the tonality of those emotions. This is the sound evoked right now," explained Wallace. Much of the magic of "A.D." stems from the fact that while Wallace's ambitions continued to soar, so did his ability to make good on them.
With its explosive rhythmic energy, "A.D."  is deceptively intricate. It's all too easy to become absorbed by its hypnotic grooves and lose sight of just how satisfying its other explorations in sound truly are. The most discerning and attentive listeners will be on a quest to decipher the meaning behind each track on this EP. "A.D." is an assertive statement from Des Wallace.  With it, he has set the bar incredibly high for a follow-up, but he will surely rise to the challenge.
CONNECT:
Facebook: iamdeswallace
Apple: Des Wallace
Deezer: https://www.deezer.com/en/artist/118510122
IG: iamdeswallace
SoundCloud: https://soundcloud.com/des-wallace-214641040
Spotify: Des Wallace
YouTube: https://www.youtube.com/channel/UCEOuiECncMlSq11LWddUiLA
Tidal: https://tidal.com/album/171644303
Please follow and like us: