Actress, singer and songwriter, DaBeautifulKey grew up dancing with the Dallas Cowboy Cheerleaders and Houston Rockets Halftime games, writing plays, songs, poems, designing clothes and being active in the performing arts while keeping her education at the forefront. A graduate with a Bachelors of Science degree in criminal justice, she continued to keep her foot in music by writing songs for producers. Over the years DaBeautifulKey has acted in several plays, as well as written many TV sitcoms and movie plots. She has starred in music videos, movies, commercials – Love and Hip Hop Hollywood Season 2, as The Preacher's Wife in Young Jeezy's "Church in these Streets" and Fetty Wap's "My Way music video, Johnny Dang, Paul Wall, Kirko Bangz and more.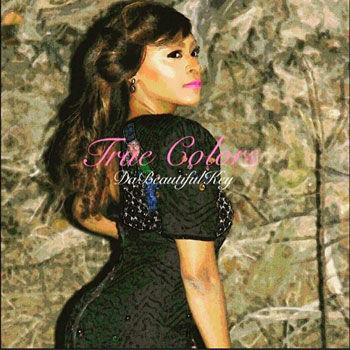 Now she feels the time has come for her very own EP to share with the world in the summer of 2017. She is starting out with the love story track, "True Colors".  Unlike most so called singers as of late, DaBeautifulKey rich, emotive and unpretentious voice is an asset not a liability.
Without her smooth, sultry and breathy voice, this song would not become as enjoyable as it is. And the reason is quickly uncovered; the music is slow, dreamy and ethereal, and almost mono-dynamic in its beat, relying heavily on DaBeautifulKey's vocal nuances and timbres to light the spark in the listener's ear.
This song has honest direct lyrics any person can relate to. The content is relevant and illustrates the singer's self-reflection of love, while her vocals are clearly signature. I do feel in the music world today artists with the style she forges on "True Colors" are wrongly overlooked as most seem to be searching for up-tempo dance numbers!
Totally forgetting about the lyrics, storytelling, mood and emotion certain songs are able to communicate. It's crazy how some real talent gets overlooked if they're not crawling across the stage, half naked or involved some crazy scandal.
DaBeautifulKey puts out good mellow R&B music with "True Colors" that can be related to no matter who you are. She is no pop teen-queen impersonator. She is the real deal delivering thought provoking, soothing, and just wonderful music to bathe your soul in. It does not need a wordy review, just play the sample on AMAZON
OFFICIAL LINKS: RADIO INTERVIEW – AMAZON – FACEBOOK – INSTAGRAM – TWITTER – YOUTUBE
Please follow and like us: