Malínský in everyday life is Marcin Maliński. From an early age he showed artistic ability, from music to acting. At age 14, creator of the project MALINSKY began playing the piano and keyboards. With growing experience in playing keyboard instruments he began to compose songs and develop their vocal talent.
At the turn of 2010 and 2011 Marcin started taking singing lessons in Lodz House of Culture, with vocal classes, under the guidance of professionals who discovered his aptitude for singing opera. Malinsky found this to be not compatible with his temperament and began the search for his own musical style.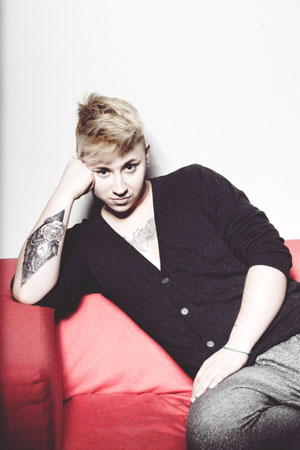 It was then that he decided to take the stage name Venya, which is an abbreviation of the Spanish word "VESANIA" meaning madness, madness in a positive sense – twisted energy, the force that drives our lives. After having performed in many cities and releasing a single, he decided to end the project and Malinsky was officially born. Now he release his brand new single entitled "Falling Down".
The song opens moodily and mysteriously, in the most gorgeous way. Malinsky vocals are clear, never obstructed by the production. A constantly evolving cut, the full scope is realized when the production expands to its lushest – pads, strings, reverb laden vocals and fully layered harmonies.
I was spellbound by the edgy instrumentation and the tonality of the music and vocals. Very different sounding as the recording captivated me with the atmospheric and hypnotic eeriness of Malinsky's vocals. The way Malinsky presents his musical ideas is groundbreaking.
His dreamy electro-pop sound is mixed perfectly – multi-layered and diaphanous. His music reminds you of what the tortured human spirit sounds like. It will turn your emotions upside down and turn your heart inside out.
The track is marked with quiet, intense emotion. Every moment of silence, every blip, every piano chord, every vocal manipulation portrays a deeply-felt yearning. Sometimes that emotion can be felt physically, especially if you turn up and let the deep, vibrating bass pound your chest.
It literally feels like the moment you find out your love doesn't love you back. This guy really knows what he's doing, and I can't wait to hear what he comes up with next. Oh and did mention that Malinsky has a wonderful soulful voice? This guy can really croon. "Falling Down" contains layers on layers of amazingly crafted electro-pop musical art. You must listen!
OFFICIAL LINKS: WEBSITE – FACEBOOK – RECORD LABEL
Please follow and like us: