Boston area composer and instrumentalist, Charlie Terenzio is back with another release after last year's critically acclaimed "All Your Roses". Charlie, who works from his home studio using Apple Pro Logic, has once again delivered a track that uses the rock crunch of electric guitars, together with electronic wizardry to complete a crossover sound. The new instrumental track, entitled "Magenta Leaf", is an epic 7 minutes and 45 seconds long, and includes the sound of bagpipes into its arrangement.
Charlie Terenzio offers another outstanding slab of epic, melodic, crafty, wildly adventurous, unashamed progressive rock…only this one offers a twist. The keyboard interaction and the overdriven angular but melodic guitar tones are just right to get lodged in the brain and never work their way loose. This is a brutally well-written and performed recording. The music and the arrangement is flawless. This song is so dynamic, and builds in such a satisfying way that I have to stop myself from listening to it too many times for fear that overexposure would hinder the magic.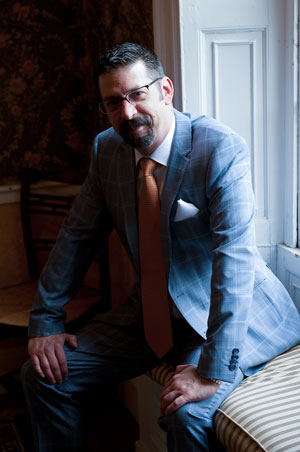 No amount of analysis and dissection of the parts that make up "Magenta Leaf" can bring to light the magic of the finished product: Nothing except the music itself. Like any good instrumental rock recording, the song sections changes frequently. On a technical, musical and instrumental level, the percussion, bass, and keyboard sounds are superb, but it is the gritty guitar that ultimately drives this song to where it wants to be.
The engineering and mixing are, as usual with Charlie's projects, very "real" sounding. Some modern music loses depth, warmth, and dynamics during this process, but Charlie seems to be a master at giving the listener the accurate and intended sound of his songs.
"Magenta Leaf" delivers pure musical bliss, like symphony of rhythmic progressions similar to waves rolling in to shore again and again. Music has the ability to lift ones spirits and this piece certainly does the job and delivers a performance that soars. There's an abrupt stop in the middle as the song takes off into another direction, but this only adds to the overall interest. It makes sense that great musicians would produce great music.
However this release, to my mind, is a definite improvement over the previous release – "Magenta Leaf" is more varied, epic and even more powerful. I listened to this release numerous times and found it's definitely proggier than anything before by Charlie Terenzio, as well as being mature, emotional, with every part well laid out, while the instruments all shine.
OFFICIAL LINKS: WEBSITE – FACEBOOK – SOUNDCLOUD
Please follow and like us: