Hailing from Haverill, MA, and representing Rockingham/Hillsborough County, Broot is an artist, as well as the owner and founder of Broot's World, LLC – Record Label, Mixing & Mastering, Merchandise and Music. He put out several projects prior to 2020, but took most of it down due to being unhappy with the production work. Now with his music being mastered for commercial use, he is currently releasing at least one single a month. Among his string of fresh releases we found the single "Entitlement".
At the core, Broot's music has always been about things he knows or has experienced. His songs are usually very personal, with a specific theme which is easy to catch.  Meaning he keeps it fairly real, cutting to the core of his topics. His songs are very atmospheric, regardless of whether they are hard-hitting or slow burning. His flow is dynamic, and his wordplay sharp and focused.
Most of the abovementioned facts subsist in "Entitlement", where he raps with great vibrancy. His flow and lyricism is playful and impacting, and the one-liner messages are as clear and pointed as ever. Aside from strong lyrical and technical rapping quality, the song displays remarkable growth musically as well.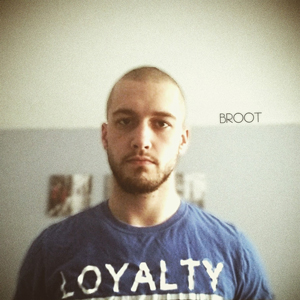 "Entitlement" is beautifully crafted, with a dark thumping low end, while on top, shimmering and twinkly keys are sprinkled all across the soundscape. His rapping has become even more complex and intense at the same time. Broot can really do it all, write, rap, and sing, and it's exciting to see him growing and improving track after track.
Broot deals out plenty of philosophical and thought-provoking anecdotes. "I finally got my vision right. Happy with what I have, but I still bring a knife. I don't trust anyone, never mind get a wife," raps Broot wryly. My favorite lines in the song being: "I'm in a weird predicament. I love myself and I feel significant. But it's not my health that I fear so imminent. Maybe sudden death or get pierced ligaments."
However there's plenty more to chew on. Interestingly enough, Broot is also delivering his messages with a minimal amount of curse words on "Entitlement", unlike the plurality of modern rappers. I think I only counted one, or two at the most. He clearly doesn't want too many obstacles in connecting with every possible listener he can. Which is probably the best way to go, seeing as spreading the rap culture to everyone seems to be high up Broot's list.
"Entitlement" delivers a well-rounded catchy sound, and has an all-round addictive vibe. It may be very difficult for Broot to top it with his next release, but I will be very eager to see him try. In the meantime though, he's left us with a great piece of work to process and enjoy.
Broot is not the kind of artist that you throw on in your car as background noise. His music works better if you pay absolute attention to it. That's something you rarely find in today's music.
OFFICIAL LINKS: WEBSITE – FACEBOOK – TWITTER – INSTAGRAM – SPOTIFY – YOUTUBE – SOUNDCLOUD
Please follow and like us: