Superstar front-man, Graham Bonnet and the boys have done it again. With "Born Innocent" – releasing on the 31st of July 2020 – their first studio venture since 1986's "Dangerous Games", hard-hitting band Alcatrazz have given the world another instant classic guitar-driven rock album. And when it comes to guitar players Bonnet sure knows how to pick his six-stringed cohorts. Beginning with Ritchie Blackmore, the lead vocalist has collaborated with notable names such as Yngwie Malmsteen, Steve Vai, Michael Schenker, Chris Impellitteri and on the new album, also brings in Boston-based Berklee College of Music Assistant Professor of Guitar, Joe Stump. But on "Born Innocent", Alcatrazz is chock full of talented top-tier players, regardless which instrument you care to decipher.
The actual core band line-up is: Graham Bonnet (Vocals), Joe Stump (Guitars), Jimmy Waldo (Keyboards), Gary Shea (Bass) and Mark Benquechea (Drums). And that's just where the good stuff begins. Mixed and mastered by Andy Haller, "Born Innocent", sees Graham call in a list of illustrious past collaborators to make guest appearances, from Chris Impellitteri, who wrote and played all guitars on the barn-storming title track "Born Innocent".
Bob Kulick wrote and laid down guitar for "I Am The King". Japanese guitar wizard Nozomu Wakai, wrote and played guitars on the strutting warlike anthem "Finn McCool", while guitar genius Steve Vai, penned "Dirty Like the City". Moving forward through the long list of rock-enhancing goodies on "Born Innocent", we find Italian guitarist Dario Mollo, who wrote and performed on "Something That I Am Missing" and "Warth Lane".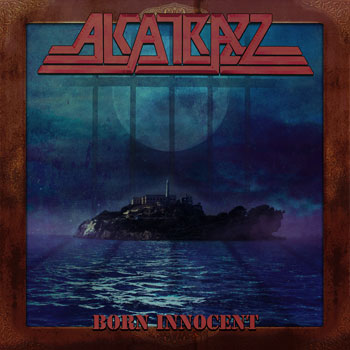 Surprisingly we also discover Riot bassist Don Van Stavern who performs on six tracks – "Born Innocent", "Polar Bear", "Finn McCool", "London 1666", "Dirty Like the City" and "Paper Flags". D Kendall Jones wrote and played guitar on "We Still Remember", while Annihilator's Jeff Waters brings a taste of his skillset to "Paper Flags".
"The whole idea was to bring in the guys that I have worked with over the years and inject even more pure Alcatrazz into this album." says Graham Bonnet, "So it was fun to have something from Bob and Steve, as well as Chris Impellitteri. It's a mini-reunion on this first reintroduction of Alcatrazz, plus the added bonus of introducing a "new" guest in Nozomu, who gets everything Alcatrazz is about." And listening to "Born Innocent", so will you.
The band fly out of the gate with the title track, before launching themselves into the lead single, "Polar Bear", all about the struggle of an Eskimo. Nozomu Wakai and the rest of the band rip their way through the explosive "Finn McCool", before Graham Bonnet shows why he is highly regarded as a legendary rock singer on "London 1666".  Just the other side of 70, Bonnet will blow singers half his age out of the water.
Keyboards and guitars collide beautifully in the dynamic "Dirty Like The City" with Bonnet firmly in the driver's seat. Jimmy Waldo's Hammond brings a nice melodic touch to "Something That I Am Missing", while Jeff Waters wreaks havoc on the gut-busting "Paper Flags".
Gary Shea's resonating bassline comes to the fore on "Body Beautiful", as do the wall of classic rock guitars. But this album just keeps bringing on the best elements that can be found in the genre, from "I am King" to "For Tony", Graham Bonnet and Alcatrazz never let up for one second, delivering a straight ahead rock album unlike anything else you'll find in the current musical climate.
And when the Bonnet and Alcatrazz settle into the heartfelt "Warth Lane", with its sad tale of suicide, you know that this project is full of deep thinkers, and not just show stopping instrumentalists and vocalists.
Thirty four years down the line from their last studio recording, Alcatrazz with "Born Innocent" prove they've still got what it takes to rock any scene, from any decade you'd care to mention. Furthermore, Graham Bonnet sounds like he is in the prime of his singing career. For any serious rock fan, this is an essential recording to add to your collection.
Follow Alcatrazz on:
Facebook: https://www.facebook.com/grahambonnetmusic/
Instagram: https://www.instagram.com/alcatrazz_official/
Twitter: https://twitter.com/TheGrahamBonnet
YouTube: https://bit.ly/2xIuSAc
Spotify: https://spoti.fi/2KoAaDs
Pre-Order Album: https://smarturl.it/AlcatrazzBornI
Alcatrazz Header Photo Credit Alex Solca
Please follow and like us: