Bad Scullianz are a female-fronted four piece hard rock and metal band based in Londrina, Parana, Brazil. They started in September 2019 with the objective of creating original rock music with a nod to the classics. The band is composed of British born Liz (vocals/composer/guitar) who has resided in Brazil since 2008, lead guitarist Lucas, drummer Neto, and bass player Cae. Bad Scullianz's influences include: Iron Maiden, Metallica, Black Sabbath, Led Zepplin, Rainbow, Joan Jett, Heart, Halestorm and many more. They have just dropped their debut single entitled "Not Immortal".
The single typifies the band's ability to keep one foot in the genre's established classic identity while toeing diverse sonic territory with the other. But with Bad Scullianz, the old is rarely far from the new, so they dig both feet firmly into the ground and gives us a real taste of nostalgia.
The heavy rock sound is raw but well produced, spotless but never crisp, dirty but never muddy, melodic but not sweetly mellifluous. The guitars resonate with over-driven crunch, the basslines rumble and roar, the drums thump, crash and bang. And all the while Liz's voice soars across the dynamic soundscape, diving right into an infectious and heavy chorus.
"Not Immortal" proves that Bad Scullianz is a band to be watched closely. From the song transpires a mixture of dedication and ambition. Qualities I wish I saw more of in rock music today. Bad Scullianz may just be what the rock doctor ordered.
"Not Immortal" provides the listener with a full-on, true rock and rock musical experience – no gloss, no catchy pops hooks, and no overdone compression. Driven by Liz's ability to conquer and bring to life vocals that are her own, but comparable to many of her peers, this track will make people feel something.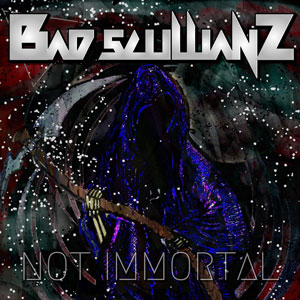 Of late rock and metal has overlooked the aforementioned elements, leaning rather towards top 4o radio aesthetics. In this way tearing the heart and soul out of the genre.
"Not Immortal" is loud, triumphant, confident arena-sized rock at its absolute finest. The confidence, raw talent, and attitude that allowed singers like Joan Jett, Pat Benetar, or Ann Wilson to shine decades ago runs strong in Liz today. Despite that, there is nothing presumptuous about Liz. She's just pure talent.
It does of course help that behind her she has a band that has revived the core rock sound and values. Together, their powerhouse vocals, skilled guitar work, driving rhythm, and classic rock edge, make this track one that will appeal to new and old rock fans alike. That being said, this is 3 and a half minutes of fiery audio that will kick your ass, leave you hyped, and have you begging for more.
Given that Bad Scullianz are new to the landscape, they have plenty of time, and more importantly, the disposition to become even better than they already are. And that's what the industry, and the genre, desperately needs to win back the glory that once belonged to rock and metal!
OFFICIAL LINKS: FACEBOOK – TWITTER – INSTAGRAM
Please follow and like us: