Nowadays, it's difficult to make a rock record without it sounding like a parody of itself. Far too often the contemporary take on the genre feels forced, derivative and unauthentic. With a highly dynamic and atmospheric rock flavor, dosed with a bluesy soul, the indie-rock band Azure Wolf, from Winchester, VA, affirms that the genre can still be invitingly compelling. Their latest single, "Black Fur", buoyed by front-woman Victoria Backle's powerhouse vocals and profound lyrical bite, captures an authentic rock spirit and struts with a direct and unapologetic feminine energy.
Originally a solo folk project established by Backle, the project quickly grew into a four piece band. With jangly guitars and a larger-than-life melody, the single "Black Fur", is a slow burning, mid-tempo arena-rock anthem full of emotional resolve and musical energy. Its opening lines are replete with both cryptic and vivid imagery, and are bolstered by Backle's passionate delivery: "Someone tears my ribs from both sides. Someone wants my soul. Someone takes my spark and ignites. Someone eats me whole."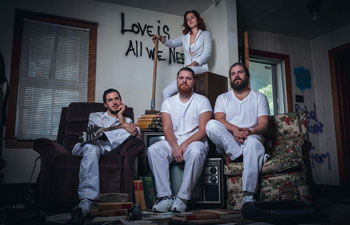 Driven by Victoria Backle's ability to conquer and bring to life vocals that are her own, this track will make people feel something, as the singer drives a blend of rebellion, danger, and sensuality, with a just fragment of vulnerability, to the forefront. Bringing the words to life with an attitude, she is sure to soon become everyone's favorite female indie-rock singer. Backle seriously knows how to deliver a mesmerism of tantalizing vocal nuances. Surprisingly, she plays the guitar too.
Now that doesn't mean the rest of the band isn't kickass, because they most definitely are. Each tap into the vein of their selected craft and construct a supercharged backdrop that is as subtly controlled as it is explosive. The band ramp up their creative and performing juices, to drive a three minute track designed to mesmerize, and showcase the vocal talents of Victoria Backle, who is set to blow the universe of pop princesses out of orbit.
Every now and again, the imploding rock music scenes gains a new weapon to its arsenal of must-hear bands, and Azure Wolf earn their right to be on that list with "Black Fur". The drumming, bass, keys, and guitar tracks on the single, showcase impacting self-expression, and a well thought-out arrangement, without the usual rock pretentiousness – something the genre can do without.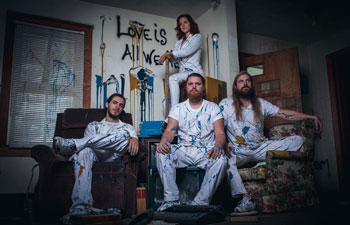 The success of "Black Fur" lies in its ability to balance an almost intimate vulnerability with the jangling guitars, and a languid, ethereal aura that builds into a thick storm of climbing emotion: "One night won't kill me, Lord. One night won't take me under. One night won't kill me, Lord, no," exclaims Backle, her voice bristling with self-assured sentiment. From that point onward you'll be hooked, with no way of turning back.
The musicality in this track comes in waves, climaxing at every turn of phrase Victoria Backle twists her tongue around. "Black Fur" fiercely blossoms as she embraces her sensibilities and her strength. Moreover, the track proves beyond doubt that Azure Wolf have all they need to carve out their own blistering artistic lane.
Formed in March of 2020, the band – made up of Sean Spencer (Bass and Synth), Isaac Foltz (Lead Guitar), Tommy Moore (Drums) and of course Victoria Backle (Singer/Songwriter and Rhythm Guitar) – has been busy writing and performing through livestreams and virtual festivals across the world, including Brazil's Sonnar Music Festival.
Azure Wolf have four new singles, each releasing on a monthly timeline, before they drop their first full length album in the fall of 2021. The single "Black Fur" drops officially on April 9th.
*Photo Credit: Kenneth Williams Photography*
OFFICIAL LINKS: WEBSITE – FACEBOOK – INSTAGRAM – SPOTIFY
Please follow and like us: