The contemporary classical composition "Flowing", for piano, strings and oboe, by Avichai Levy, who plays all instruments, radiates with his poetic skills. When we come across recorded music we would want to hear many times, we realize it results from a combination of composition, musicianship, the instruments played and the recording art. Once in a while, we come upon such a musical recording that is both, unpretentious, yet enchanting, with a focused message and theme. "Flowing", is such a piece of music. Simple and mellifluous in its composition, mightily impacting in its execution. The track is beautifully recorded, dynamically expressive and presented with a rich range of timbres.
The song perfectly depicts a world of elements that are constantly moving, changing, expanding, and evolving, yet Avichai Levy's left hand plays a constant ostinato motif on the piano, purposely meant to describe something that remains constant, reliable, recognizable and essential. It anchors the piece as the rest of the instrumentation develop and flourish.
The composition, performance, and recording are all exquisite. The simplicity of this original is sublime. My only fear is that I will listen too much, too quickly, and reduce my marginal enjoyment. In a world hardly short of modern classical and piano-driven recordings, this does feel genuinely revelatory. How has Avichai Levy found such a fresh and serene approach to the genre?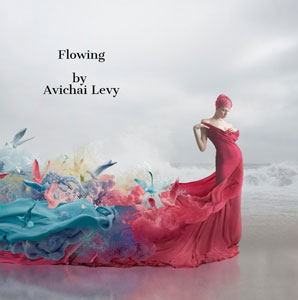 For one, Levy's music is not based on complex musical structures, and relies on melodic color that is dosed with the correct proportions. Though his fingering, rhythm, phrasing, and articulation are invaluable, it's in the feel and mood of the music, where Levy captivates the casual listener.
The architecture of "Flowing", which is less than four minutes in duration, feels aerated and accessible, more akin to a pop or world music instrumental. Much of the nuanced music shimmers and glints, as new shapes appear, and others poignantly disintegrate, all with the perceptible ostinato persistently ticking like a heartbeat.
Ultimately what sets Avichai Levy apart from many pianists is not only his formidable technique, but his artistry and vision to create a journey. Levy has a sound all of his own, bringing a refreshing clarity to the mellifluous sounds of his own musical impressionism.
Avichai Levy brings transparency of sound and pristine clarity to the right-hand, while notes are voiced with such musicality, as phrases extend with elegance and beauty. The juxtaposition of this, with his repeating left hand, uncovers two contrasting musical worlds which feel seamless.
The precision of articulation is impressive, progressions are tightly executed, while there is freedom and spirit that brings this music to life. It inspire the imagination with a divergence of texture, color and mood. Avichai Levy relishes within the character of the music, bringing both sentimentality and spontaneity.
If like me, you are coming to Avichai Levy for the first time, this musical piece will undoubtedly delight, as everything flows effortlessly.
OFFICIAL LINKS: SPOTIFY
Please follow and like us: