Starting in 2016, Ato-Mik has been releasing music on all platforms and have become a rising force in the Vancouver and Canadian Hip-Hop scene. Releasing 2 E.P's and multiple singles they have garnered over 500,000+ plays/streams across all platforms. Performing around the Greater Vancouver and British Columbia at over 50+ shows. Opening up and sharing stages with the likes of Raekwon, WC, Ras Kass, The Beatnuts, Cozz, Quentin Miller, MadChild, Eazy Mac, Tre Nyce and others.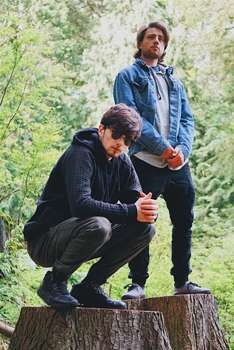 They hosted their own headlining shows at The Media Club, The Portside Pub and Studio Records. Organized and hosted/headlined a fundraiser at The Second Floor Eatery raising awareness for music therapy. In 2020 the bro's have seen exponential growth and it's shaped up to be a pivotal year for Ato-Mik as they create more momentum and support online every day!
Ato-Mik's latest single has started to catch ears all around the world through Tik-Tok. 'Just Watch' speaks to cutting off fake friends and ignoring false prophets as it is easy to be misled by people who don't have the best intentions in mind. People tend to just watch and talk behind people's backs when they are trying something different.
Until that person takes off leaving all the non-believers behind who eventually became fans, to say they once knew that perceived "popular" person. Sometimes no-one seems to cares about you until it's too late. As the saying goes 'They don't really care about us now, wait until we blow up, just watch!'
Connect with Ato-Mik:
www.instagram.com/atomikbros
www.facebook.com/atomikbros
www.twitter.com/atomikbros
www.tiktok.com/@atomikbros?source=h5_
https://www.youtube.com/channel/UCg2P2SD07RsfSW6UfXNJKRg
Please follow and like us: