Aspect Unsigned and Jah have dropped the 20 track mixtape "Virginia Legend Squad Vol.1". Their styles take from both classic old school and ultra-modern flavors. This Virginia-based collective have raised the stakes of the rap game, not only in terms of pure, gritty excess, but also in rhyme-style, cadence and delivery. They're not content to just shoot at that next emcee or punk in their neighborhood; they'll harmonize rhyme about it too, mixing graphic imagery with classic street-corner crooning.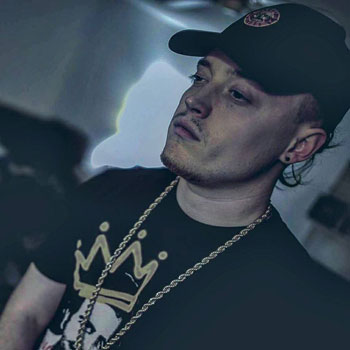 Essentially, this is a record, complete with heavy-looped bass lines, electronic shots, warped-out club sounds, cinematic soundscapes and a fast-paced rhyming style mixed with swagger and grit. No change in subject matter: just shoot-'em braggadocio, laced with ominous synth samples. This is the kind of mixtape that starts out good and gets better with repeated listening–as the dark, subliminal references clear up. Easily one of the most worthwhile rap downloads of the year so far.
Aspect Unsigned and Jah enter the game on a mission; to rule the world! From the sounds of booming bass thunder, and the dark, gritty, and cold soundscapes, they take you on a lyrical and musical journey. That is what the classics do. Less obvious to the average listener, classic albums take you on a visual journey just the same, if not more.
If you're feeling the music, you're visualizing how it coincides with a certain moment of scenario in your brain. Classic music is as much a psychological experience as it is emotional. The beauty in "Virginia Legend Squad Vol.1" is its simplicity, weaved into its simultaneous intricacy.
Aspect Unsigned and Jah concurrently construct a mixtape for the hip-hop mainstream with a niche market to follow. Due to the interpolation of gangster rap, gritty and spiritual production, and of course, bud-smoking music; "Virginia Legend Squad Vol.1" stands alone as a great masterpiece.
Hip-hop is rooted in tradition, but also thrives on innovation, and these dudes offer both. So, what I suggest is you grab your best headphones and take "Virginia Legend Squad Vol.1" for a spin this week. Especially the standout tracks: "Paid Young", "Matt Damon", "VLS Cartel", "Tippy Toes", Rebel Yell", "Show Em", "Wait On Me", "Pin Her Up", and "Adios".
If you've never heard these guys before, this mixtape will help transport you to a portion of the industry unfamiliar on your radar and completely open up a new perspective. With their triple cadence lyricism, harmonic flows, and twists, they could easily develop a small cult following in the urban areas.
I don't know why, but for some reason I didn't expect this to be that great. But I must say I was completely wrong. "Virginia Legend Squad Vol.1" actually turned out to be a really amazing mixtape. To be honest, I won't be surprised, if I end up playing this too much.
OFFICIAL LINKS: SOUNDCLOUD – DATPIFF – FACEBOOK – INSTAGRAM
Please follow and like us: