Originally from Dalton, Georgia, 19 year old FG Records label owner and artist, $antamaria (aka FG $antamaria), now out of Tuscaloosa, Alabama, has released his second album in less than a year. Following closely on the heels of "Space Martian", the new album "Perkys And Pressure" promises to move him to the next level and keep his momentum going. The production is dense, intricate and marvelous.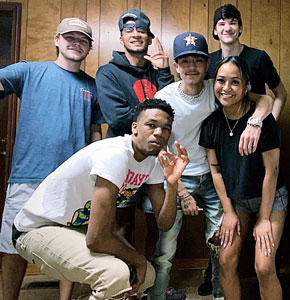 There are so many styles and sounds present, and the ability to execute across this vast variety is astounding. Exquisite samples and unique instrumentation incorporating everything from horns to hard-hitting percussion lay a production foundation that is remarkable.
Lush, jazzy styled instrumentals like on "Introduction" and "Snakes In The Grass" transition to darker trap-influenced beats such as "CVS" and "Twenty-Two Minutes" and to everything in-between with a surprising ease.
Appropriately for $antamaria, his musical influences comes from all types of styles, and everything is masterfully placed, blending the warm soundscapes with lavish instrumentals and gloomier sonic backgrounds against deep lyrical contemplations.
No matter what sound is present, $antamaria kills it with consistently great performances. Genuinely at the pinnacle of creativity and innovation in his style, $antamaria does so many things across the album at such a high level. Few artists this young, have had as interesting and unique of a development arc as $antamaria has shown thus far. "Perkys And Pressure" reflects the growth of $antamaria pen and rap performances.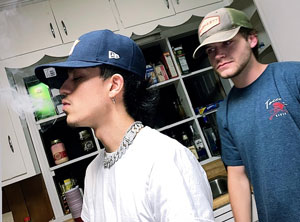 From the slow banging "No Advice" to the cinematic expanse of "AK Automatic", his nuanced deliveries elevate the drama of each cut. $antamaria's oscillating storytelling, between reckless confrontation and sincere emotion, is palpable in both the album's most bombastic and somber moments. His voice is everywhere, seamlessly connecting a collection of tracks that share carefully constructed aesthetics.
$antamaria's in command of each track, but nowhere is he more in command than with his own rapping, the obvious focal point of the record. Take "The Stoner Anthem", a masterclass in flow and vocal control, where his cocky and wise tone drives the mellifluous backing.
Any rapper that can do that is doing something right. He leaves the best for last, with an authentic performance on "2020 Was Shit", where he unfolds his experiences of covid-19 dilemma.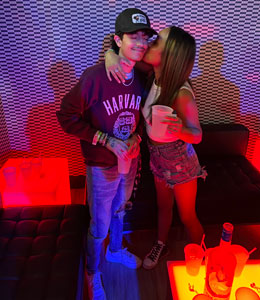 $antamaria's newest album "Perkys And Pressure" is yet another winner for him. If you are into the kind of music that he releases, then you know that he rarely makes a bad song. That goes for this album as well. $antamaria is one of those artists who can tell a story or discuss his feelings, emotions, and state of being, candidly. He has truly been a machine when it comes to implementing his creativity.
On "Perkys And Pressure", $antamaria demonstrates a microscopic level of detail in the molding of his music to fit his rapping aesthetic. He also possesses an ability that few current young artists share, in that he knows exactly how to elevate the strengths of talents. That's the crowning achievement of this record.
$antamaria has been giving props to his supporters and his team, FG, for their continued support, and promises to drop one more project this year, along with all the other plans he has lined up ahead.
OFFICIAL LINKS: INSTAGRAM – SOUNDCLOUD – SPOTIFY – APPLE MUSIC
Please follow and like us: