Angela Marie Cross is a master musician, who is extremely talented in in everything she does. Her voice has a rare quality, almost a whisper at times and at the change of a beat she shakes the song into a new husky and growling pitch. In each song Angela expresses herself in a passionate and beautiful mini symphony that requires full attention. From the lyrics to the perfect orchestration of every song, her latest 5-song EP, "Black Moon Rising" cannot be played as background music.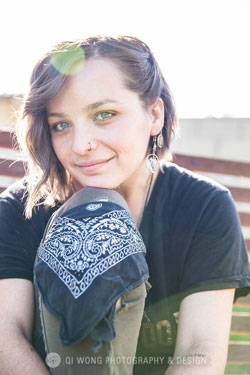 Angela Marie Cross reminds so much of Dave Matthews, not in her sound or style, but because of the intensity and integrity she injects into every note she plays or sings. It's as if each note is a little black dot on a white board hidden away in her bedroom, which she chooses and moves randomly to connect to another, depending on her mood. These subsequent and seemingly casual black dot connections somehow blossom into a breathtaking colorful music box of alt-pop splendor.
But there is nothing 'casual' going on here, as Angela displays a brilliant knack for writing and executing emotionally-fused alternative pop with piano or acoustic-guitar-driven organic soundscapes, with meandering rhythms and gentle, rolling percussion. Her music is personal, intimate and confessional. She bares her artistry just as much as she bares her soul.
Wrapped neatly alongside her creative soundscapes and warmly padded atmospheres is her dynamic vocals that creep up your spine, tingling with tantalizing treble whispering into your soul all of the fragilities of love and life. Angela Marie Cross' vocal ability alone is reason enough to get this EP; her vocals inject these songs about love, loss and redemption with life, emotion and passion. Her voice has a unique swing from low to high which she uses to great effect, while her lower notes have a husky breathy quality without losing the pure tone of her voice, and that's where the real beauty is.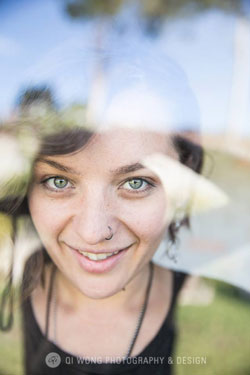 Lyrically Angela Marie Cross is a step in the direction of cerebral as she flows and floats between the Bjork and Tori Amos, genius storytelling camp, only she is so much more 'approachable' word wise. As with many great performers, it's not in the moments of heightened crescendos or climaxes, that you can grasp their true mastery, but in the quieter moments when the exposed vocal or musical performance is all there.
Those moments seem so simple but are where lesser performers fall and falter in. Angela Marie Cross is superbly magical in those quiet moments, which you can find in abundance on any one of the tracks on "Black Moon Rising". I discovered those best moments to be on "Lost You Now", "Sorry" and "Forgiveness".
So if I say that this is an EP worth buying, I'm coming from a place which appreciates music, not the trappings. I don't care about what labels you apply; this music is fascinating. You can listen to it and not hear the same lifeless melodic lines, the same lyrics, the same verse-chorus-verse structure, or even the same instrumentation you have been hypnotized with by radio.
Yes, there are songs about a boy meeting a girl, a boy loving a girl, and even a boy leaving a girl…or vice versa, but Angela Marie Cross frames them in such a way that they become much more than just songs. How much more? That depends on the state of your heart…and if you have a "Black Moon Rising" too!
OFFICIAL LINKS: WEBSITE – ITUNES – FACEBOOK – INSTAGRAM – TWITTER
Please follow and like us: