All Atomic is an electronic music artist from Bristol UK. "I partied a little too hard," said All Atomic, "and now putting what I learned from my hard partying and experiences into my music." Once you stop contemplating the significance of EDM and all its derivatives, and start to marvel at the interplay of the unearthly 80's videogame synth melodies, the robotic snare whaps and those bouncing basslines, the latest track, "Atomic Moon", by All Atomic, will make so much more sense to you.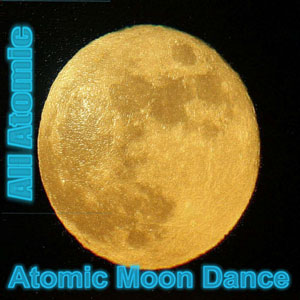 "Atomic Moon" is hard to explain or capture– the most you can do is dance around it. It encapsulates so much of the promise of electronic music, so many of the possibilities. The whole track is a techno groove and not a single sound feels out of place.
Rhythm is fairly rudimentary but for All Atomic it's the melody and sounds that's essential – intricately woven layers of melody that sound more and more precise and necessary each time I listen to the track – it feels a little dramatic and mysterious in places.
All Atomic is very good at making songs that aren't too loud and in your face, but at the same time are energetically driven and just have a way of keeping you interested right through. Meaning that if you keep the dial turned down, you can actually listen to this around the house while pumping yourself up doing chores.
However with a simple flick of that dial, you could be transported to the center of wildest rave party on earth. Every single facet and tone is worked into perfection on "Atomic Moon" for a marvelous dance floor experience.
Techno music comes in several different styles, this can be both melodically driven or much more aggressive and impacting, depending how much volume you put into the dial. Once it kicks in, "Atomic Moon" sweeps you away and never let's go.
OFFICIAL LINKS: TUNECORE – BANDCAMP – REVEBNATION – FACEBOOK – YOUTUBE
Please follow and like us: