A prominent act in the Los Angeles music scene, Adonnis' songs have gathered media attention and airplay throughout college radio and various markets around the world. On May the 20th Adonnis released his new EP "Love Is Life".  Adonnis is an eclectic artist who sings, raps and produces his own music, using a balance of analog and digital equipment, including tweaked Roland 808s and the legendary LinnDrum machine. It is very difficult to put him into a genre box, and I'm almost certain he does not want to be put there either.
The music is wrapped up in sweet, almost playful melodies that are extremely rhythmic. Adonnis said that on this release he decided the best way to progress creatively was to approach his music more from a songwriter and musician's approach, which sees him take care of all the creative aspects.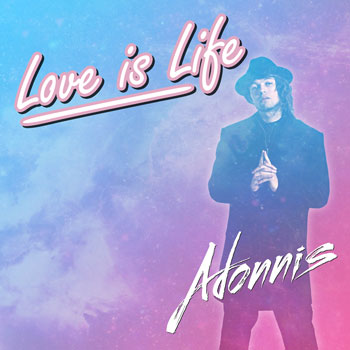 Everything is devoted more to song construction where he uses the instrumentation in a very expressive and non-gimmicky manner as well. The EP's title is obviously perfect for the song themes, as they all play around 'love'.
The EP is refreshing, surprising, amazing, and quite different. Adonnis' voice is light, melodic and non-abrasive, his ability with his instruments even more so. The production values are superb, but what it really gets down to are the songs – four amazing compositions, with tunes that are infectious, and lyrics that are thoughtful and inspiring – all done in an unpretentious manner.
From "Be With You" and "Love Is Life" to "Your Love" and "Free Your Mind", Adonnis stays true to himself and goes along his own path on this EP. That's something to respect; "Love Is Life" is actual personal expression, not a corporate hand job.
I guess that Adonnis sticks to his guns because the emotions and memories evoked by this music are important to him. Primarily, the keyboard work is phenomenal, but so is the percussion.
What we have here is not your loud, crass, overrated pop-dance-techno album. "Love Is Life" is something truly special that utilizes brilliant compositions and instrumentation, successfully personifying a seemingly quaint an unattainable, illusory soundscape.
You'll feel like you're looking back fondly on the innocence of your childhood and emotion of your teen years, during periods of wonder, love, happiness and triumph. I'm not sure why but this music engulfs you and makes you insanely happy!
In a sea of bland, irritating, unmitigated auditory garbage, Adonnis' latest effort transcends genre, and literally anyone with any musical preference should find something to love here. And even if you don't love it, you would have a hard time disliking it!
OFFICIAL LINKS: WEBSITE – TWITTER – ITUNES
Please follow and like us: