Watching Acemattz & Bipha perform in any of their videos is like watching friends realize they're onto something big time. They are accomplished rappers individually, on their own terms, and as collaborators, as a unit, their styles gel perfectly. They're not just comfortable performing together—they are feeding off of each other, refusing to be one-upped, beaming and grinning and head-bobbing as they take turns impressing one another. By the end of each of their performances, their formation into a real show-stopping combination seems inevitable.
In the new wave rap scene, there is plenty of talent to go around, Acemattz & Bipha craft some of today's most intriguing rap music. With the releases of "Annonce" and "Tshanana", the duo's ability to deliver melodic and snappy bars make them a clear standout in the current hip-hop landscape, as their versatility is nothing short of consistently captivating.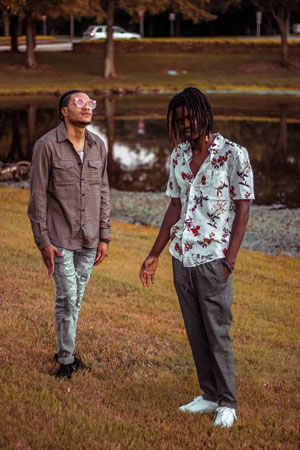 Acemattz & Bipha have delivered time and time again with the ability to go bar-to-bar with your favorite rapper, and probably deliver it with a whole lot more swagger and determination. These emcees are wonderful together, they could possibly craft the collective to represent a generation's sound.
With "Tshanana", the artists have brought to light their own original style, showcasing a fusion of sound that the world eventually needed a new group for. It is already a certified atmospheric banger at 30 seconds into the track, as the rappers go onto delivering a killer verse filled with plenty of well-deserved flexing, letting everyone be very well aware that their game top tier.
Acemattz & Bipha deliver two different flows throughout the track, seamlessly switching it up and entering an entirely new level with bars that would most definitely warrant a mic drop. Acemattz & Bipha shine on this track as they highlight what they do best, delivering with hypnotic and psychedelic cadences what others can only hope to imitate.
Every aspect of the music comes together perfectly on "Tshanana". The beat is engaging, the vibe is chill, the stylized flows are sharp, and best of all the head nodding groove is on point. When Acemattz & Bipha, are on the mic, there's never a dull moment. They are either giving you a passionate, fast-paced combination of bars, or they are winding you into their mesmeric web of adlibs.
Needless to say, Acemattz & Bipha and their LittyNationZ project, know exactly where they stand in the rap game. They know they have a unique style, and are not afraid to show it off!
OFFICIAL LINKS: Acemattz Instagram – Bipha Instagram – LittyNationZ Instagram – YouTube – Facebook  
Please follow and like us: