John Vento is often called a chameleon in the Pittsburgh music scene; and, while his critics may use the term as a pejorative, Vento views it as a compliment. He understands that they're motivated by the frustration of their inability to lock him into a specific musical style. After all, the front man for the high-energy, hard-rockin' band, the Nied's Hotel Band, is also known for his introspective, brooding solo recordings. John's 2019 MTS release is "Love, Lust and Other Wreckage." The album received the IMEA Award for Best Americana Album. His single, "Rainbows And Lightning" reached the Top 20 on iTunes Canada charts, receiving national and international airplay and charting. His follow-ups, "Baby Blues," "Humble Way," and "I Hope I Don't Fall in Love with You" (Tom Waits cover) have also received national airplay chart attention.  His single, "Well Yeah Maybe" reached #1 on the South African iTunes charts. The videos for his singles have all been selected for film festival inclusion, around the globe.  John is a January 2019 Billboard Magazine Emerging Artist and a Communitas Award Winner for his work with non-profit, Band Together Pittsburgh. In late 2020, John Vento began releasing one track per month from his new album collection, "Brick By Brick."  The album includes the #2 iTunes Rock Songs single, "No One Wears A Watch Anymore." The album will be completed by 2022.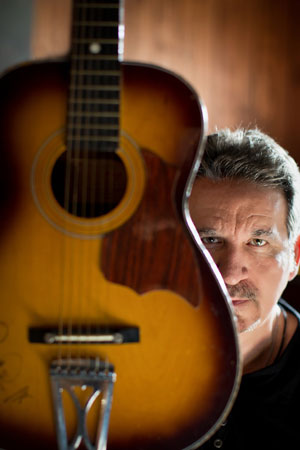 Do you feel that your music has given you back just as much as you have put into it over the years, or were you expecting something more or different?
John Vento: For sure! Through music I've come to know some really incredible people that have made my life so much fuller. I can't image a better accomplishment than that.
How would you define the word "success" as a musician? What does "success" in in music, mean to you personally?
John Vento: Creating something that touches another in a special way. A lyric or a performance that helps folks forget about their troubles for a bit.
The music industry has fundamentally changed over the years. For the better or for the worse in your opinion?
John Vento: Both! On one hand the value of new original music has plummeted due to technology and file sharing. On the other hand, there are great opportunities for indie artists that never existing before. It's a real double-edged sword for sure.

Do current popular songs from the radio influence your music, creative approach and/or production decisions in anyway?
John Vento: Not really. I don't listen to current radio even though when I do there is some great stuff out there. I respect all artists but I really try to just stay in my own lane and just act my age. LOL
What's your favorite 'guilty pleasure' song? One that's as far removed from your genre as we could hope to guess?
John Vento:  Maroon 5 – Move Like Jagger

Putting aside the accolades or criticisms that fans or the media may afford your releases, what's the one thing about your music you think people overlook or misinterpret most often?
John Vento:  I think many listeners feel I'm a guitar player because the acoustic rhythm guitar is such a prominent feature in my recordings. Actually, I wish I could play guitar but I can't sit still long enough to learn.
Do you have a particular hobby or activity outside of music that you use to rejuvenate your creativity or inspiration?

John Vento: Oh yes…gardening! I am a very serious landscaping dude especially when it comes to floral plantings.
Name us a band or musical artist you love, that you think we probably haven't heard of (but definitely should hear)?
John Vento:  Webb Wilder.
What drives your day after day, more than anything else, to continue pursuing your musical career?
John Vento: Working with so many great musicians and creating new original recordings.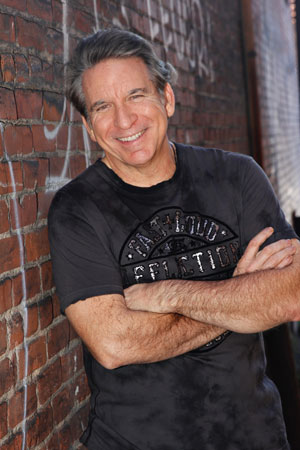 What do you think about, when selecting tracks for an album? Do you try to curate for a specific overarching and cohesive theme, or do you lean towards putting together the best sounding tracks you can?
John Vento: Actually, me last full release, "Love, Lust & Other Wreckage" was theme based both lyrically and stylistically. I would have to say that I typically take that approach. However, on the new project, "Brick by Brick", I'm releasing singles on a monthly basis and no two tracks with sound alike. This is like throwing paint against the wall, you just stand back and see what happens.
If you were forced to choose just one song by your favorite artist that you wished you had written, which song would it be, and why?
John Vento: Harry Chapin – Taxi. Incredible story told over a beautiful classic chord progression.
Do you typically test your new tracks in live performances prior to an officially releasing, or do you go with your instinct?
John Vento: No. But the recordings have a live feel. I like to keep it simple so we can deliver the songs with a live band. The less production the better in my book! The music is created with real musicians who actually know how to play their instruments.

The incredible immediacy of digital download platforms, or the nostalgia of hunting down a vinyl album in a brick-and-mortar record store? Which of these excite you most and why?
John Vento: Well… neither, I still prefer the sonic quality of a CD. But, there's a huge problem, most cars do not have Cd players. uggggggg

Releasing albums vs. singles is the big argument of today in the music industry. Does it actually matter to you?
John Vento: I'm kinda' doing both, I release a new single each month and at the end of 12-14 months, or when I'm out of new ideas we'll add it all up and call it an album… "Brick by Brick".
Do you think is it important for fans of your music to understand the real story and message driving each of your songs, or do you think everyone should be free to interpret your songs in their own way?
John Vento: This is a great question! There is a fine line between creating imagery and losing the listener. I'm not afraid to use really abstract lyrics (No One Wears A Watch Anymore) to let folks interpret things their own way. But I would say that for most of my songs the story is fairly straight forward.
What's the most exciting part of the process of putting a new song together for you?



John Vento: I'll call it step 3. Meaning we've already created the basic chord structure and lyrical theme and step 3 is when the real detail grinding and editing occurs. For me that's the most satisfying part of the song writing and recording process. That's when you can start to feel if things really work or not.
Have you ever stepped completely and unwillingly outside of your comfort zone, vocally or musically to accommodate the desire of an arranger or music producer etc.? If so, do you consider it a positive or negative experience, and why?
John Vento: Yes, for sure! I've had some serious vocal issues (including surgery) that have created very stressful situations. Unfortunately, I'm more limited than ever with my vocal range but I still need to try new approaches and be open minded to guidance from musicians that I respect. So, I would say that leaving my comfort zone usually ends up being a good thing.

Regardless of genre, which basic qualities does a song need to possess to qualify as a "good" song in John Vento's playlist?
John Vento: Great lyrics & melody.

How long does it usually take you to complete an album? Do you work with a fixed daily writing and recording schedule, or do you only work on your music when you feel inspired?
John Vento:  Tough to really answer this one. "Love, Lust & Other Wreckage" took over two years and we were grinding pretty regularly. I think that took more time than usual because it was thematic and everything had to tie in. Newer stuff has come much more quickly because I can work within many different musical genres and lyrical foundations.
Many in the industry believe this to be the 'golden age' for electronic music, and that in the future we'll be looking back at the electronic songs from this era, in the same as we look back at our favorite pop, rock, country and soul tunes, from past eras of musical excellence. Coming from a completely different musical genre, what's your take on this thought?
John Vento: Please forgive me but I have no idea what electronic songs are.
OFFICIAL LINKS: WEBSITE – FACEBOOK – TWITTER – YOUTUBE – SPOTIFY
Please follow and like us: