A professional banker by trade, Shehzad Bhanji is an instrumental rock guitarist ready to share his passionately crafted classic rock, soft rock, blues and pop rock creations with the world on his debut album entitled, "Never Say Goodbye" – a project wholeheartedly supported by his wife, and made possible by a New Year resolution promise made between the two. The Karachi-born, and Doha, Quatar-based artist embarked upon his album project in January 2015, after honing his skills and sound during the previous years. The album showcases the changes and experiences that Shehzad has gone through over the years. The biggest of these was the switch from Karachi to Qatar, says Shehzad, which has allowed him to develop as a person, and in turn profoundly aid his musical development.
As you would expect from a musician of his experience, "Never Say Goodbye" is packed with amazingly fulfilling tunes, emotions and an overflow of feeling. Naturally I listen to guitar instrumental albums by Joe Satriani, Steve Vai, Yngwie Malmsteen, Steve Morse, Eric Johnson and others, and enjoy listening to certain offerings from each, particularly for their uniqueness, diversity, interesting arrangements, and beautiful melodies.
But while all of the above guitarists are certainly more than proficient in every aspect of their chosen instrument, many of their recordings have the same common, prevailing factor. That is to say, the guitar is naturally in the forefront moving the song along and providing the melody, but often technique overrides emotional substance and much of all else.
In most cases the songs seem to be backdrops to which the guitarist gallops up and down the fretboard to. All of this lack of looking at the big emotional picture sometimes results in a very uninteresting overall sound, which generally results in putting me into a deep slumber in no time at all. A superb guitar technique alone does not make a song.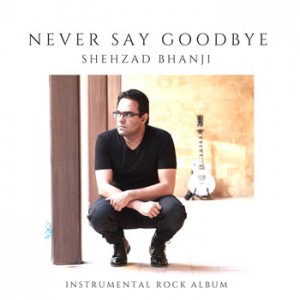 However there is a cure for this ever too common problem: Shehzad Bhanji. Shehzad plays the guitar as proficiently as many of the above guitarists, but he has decidedly chosen not to focus entirely on his technical skills alone, he has also concerned himself with the other affecting quotients in his style. The result is a big and powerful sound that is interesting and exciting to listen to, and does anything but send you off to a visit with the Sandman.
He can be slow and soulful, as on "To Stars and The Moon" and "Coming Home". He can slide into sweet fusion-influenced songs like "Life's a Journey" and "You and Me". And he can rock out on tracks like "Can't Stop The Moment" and "Rockin Blues". But all the while there is a raw emotive thread running through each song and Shehzad's style of playing.
Shehzad Bhanji's guitar tones, textures and timbres go from slightly dirty and overdriven to full-on crunching and seriously bad-ass biting. Shehzad is one fine musician. He has wonderful chops, and apart from the emotional factor, he's all about the melodies in his songs too. If you want glorious guitar melodies, you owe it to yourself to own this album. There are many guitarists and virtuosos out there but a few are able to develop a signature sound in just one album, as Shehzad Bhanji has done on "Never Say Goodbye".
OFFICIAL LINKS: WEBSITE – FACEBOOK – TWITTER
Please follow and like us: