Steven Deal and Lisa Hammer have joined forces in Radiana. Deal composed and plays lead guitar and drums, while Hammer performs all vocals, with Daniel Kohler on bass. The single that came out of this collaboration is entitled "There's Only One Person I Hate More Than You".
The song is also featured in Lisa Hammer's new original comedy series Maybe Sunshine.  Radiana has forged a sound that blends the quaint voice of Lisa Hammer with a mixture of alternative rock, pop, and dreamy soundscapes.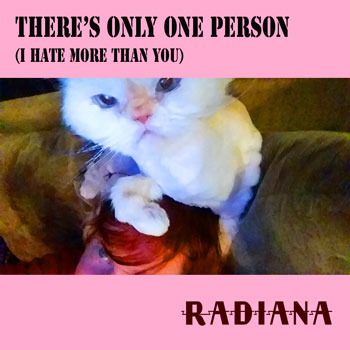 Now I could rattle off a systematic note-by-note excursion through each verse and chorus but this track should be swallowed whole until you choke on each glorious guitar riff and gag for joy. Thankfully not a single moment stands out above the rest as the band implements their scorched-earth policy of musical truths.
And that's what makes "There's Only One Person I Hate More Than You" soar. Every peak and valley offers new lyrical, sonic and mind bending thrills that is as exciting as ever.  Like the very best roller coasters, Radiana's latest bag-o-tricks has you screaming in terror on the cork-screw, and squealing with giddy delight as you ease your way over the top and into another 100 mile-an-hour free fall. And that's just in the first verse.
This is a very unexpected surprise indeed. The listener is thrown back to authentic Alternative music. Something that is sorely missed in today's world. It will make you reminisce the golden times when you were an angsty teen looking for a band or song that you related to. In the midst of it all though, Radiana have that pop-appeal, instant-listen friendly sound and could easily be played on the radio with a little bit of courage.
You really can't go out and get exactly from anyone else what you'll find here on "There's Only One Person I Hate More Than You" – simply because no-one makes this kind of music anymore. From start to finish this track is like an audio rollercoaster ride that overloads your senses.
In a world where boring cookie cutter pop music rules, Radiana sound like an absolute adrenaline rush – fun, focused, ironic, gritty and melodic.
OFFICIAL LINKS: ITUNES – INSTAGRAM – TWITTER – FACEBOOK – WEB SERIES
Please follow and like us: