"Growing Wild" is the 6th solo album by Canadian guitarist, producer Slang. It is an all instrumental album with a base of hard rock served with layers of jazz, funk, blues, and pop. Forging his skills on guitar, bass, keyboards, percussion, samples and drum programming, Slang takes on walk through the joys and perils of Mother Nature. Fifteen tracks of absolute bliss – from ambient rock soundscapes to hard rock fusion and scintillating guitar pyrotechnics. This album is aptly named, as when you listen to it, you feel like you are about to depart whatever mundaneity you face and set off for a distant world without too much thought but a lot of emotion.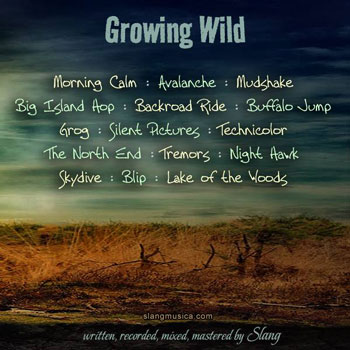 You can leave "Growing Wild" to fill the air in your room, between your headphones, while you work, jog, drive or you could dip into its depths just the same…you'll always find new things there. The quality of work across Slang releases is uniformly high and displays a genuinely artistic approach: tightly structured, adorned, precisely detailed pieces that never over stay their welcome, never exhaust their premise, but are able to blow your mind.
It has of course to be remembered that Slang has collaborated with the likes of bassist David Pastorius, Stevie Salas, Steve Lukather, Nuno Bettencourt, Johannes Linstead, Robert Fripp and others in the past. So if you didn't have the measure of the man and the musician before, now you do!
Slang builds dense soundscapes with a variety of rhythmic guitar textures and interludes and manages to keep the audience interested with added bonus of his sparkling guitar riffs, solos and shredding.
Like everything that he has created so far, the album is powerful, beautiful, full of emotion and excellent right from after the introductory track, "Morning Calm". I also credit Slang with sequencing an album that is great from start to finish without any wasted tracks, so that the album holds up extremely well to repeated listenings.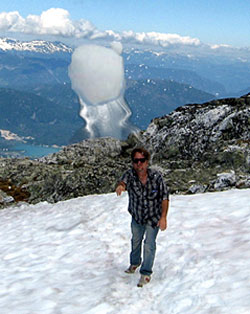 While Slang is rooted in metal, progressive and rock fusion rhythms and chord progressions, there is tons of melody and atmosphere in his music. Actually it's a bit tricky to label his sound really, as he is in a league of his own league.
Dig into the metal crunch of "Avalanche" then sink into funk fusion of "Big Island Hop". Now savor the classic rock riffs of "Backroad Ride" or the psychedelic blues of "Silent Picture". And you're only hallway through the album, with the best still to come!
Songs like "The North End", "Tremors", "Night Hawk" and "Skydive" are all elevated to incredible intricate sonic architecture that relies on extreme progression, shifting dynamics, and rich texture.
The songs flow in and out of heavy and clean parts, like waves of the ocean, seamlessly with incredible melody. The arrangements really keep on changing, never leaving a boring feeling or any repetitiveness. "Growing Wild" is a tremendously good piece of progressive metal, rock and fusion, and a very worthy inclusion in Slang's already immensely impressive catalogue.
OFFICIAL LINKS: WEBSITE – CDBABY – ITUNES – AMAZON – YOUTUBE – FACEBOOK  
Please follow and like us: