"Streets Of Rage" the new Single and Video, by artist Optamistic Pr1me features production from Grammy award winning producer Tommy Black. The supporting video is set in a dystopic future during the year 2034, where the aftermath of the pandemic, food shortage and droughts have brought on the rationing of canned goods, and Warlords seek to draw out worthy opponents.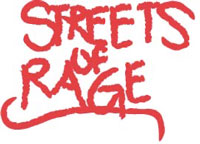 "Streets Of Rage" is a magnificent amalgamation of Optamistic Pr1me's lyrical and delivery arsenal. He bequeaths powerful punchlines, a slew of cadences, his unapologetic outspoken practices, thoughtful songwriting, and his superb production taste, which in turn becomes his superpower throughout the project. He's collocated himself in a space where the inner noise of his creativity and passion speaks louder than the outside noise of mainstream trends and radio-ready clones.
The well-crafted intensity and urgency of "Streets Of Rage" sets the tone for what seems to be a victory-lap record for Optamistic Pr1me. The song attempts to be both a loud declaration of the artist's talent, as well as a lamentation of struggles and hardships. Optamistic Pr1me strikes a nice balance between these two tones throughout the record, and his combative former is as strong as his emotional latter. "Streets Of Rage" is ultimately emblematic of Optamistic Pr1me's musical ambition.
OFFICIAL LINKS: INSTAGRAM – SPOTIFY – ITUNES – APPLE MUSIC
Instagram: @OptamisticPrime – Twitter: @Pr1me – Facebook: Optimus – Facebook/Instagram: @BUILTFRUMSCRATCH
Please follow and like us: