"Forest City & Friends might be at the forefront of a wave of exciting hybrid-Rock projects, albums, and bands kicking into gear in 2020" begins a review by Jer at Sleeping Bag Studios. FCAF's self-titled debut album is a meld of different styles of alternative rock, occasionally slipping into Southern Rock, Beat Jazz and Power Pop while still holding a distinct and original sound. Filled with songs that are melody infused, this album swings from nostalgic to down and dirty, paying homage to classic rock albums of the past. Forest City & Friends self-titled album hits all the spots of your heart and soul.
These days, modern rock has taken on a new sound. Straying away from the inventive, Earthy spirit of times before. Lyrics have become a cadence of anthemic hooks with no story. Skill is just a demonstration of speed and / or power without heart and soul. The magic of slipping on a pair of headphones or cranking the music on your car stereo has become a thing of the past, because the music is crafted for convenience, sacrificing fidelity. The sonic landscape of imagination that encompassed an entire album has been replaced by singles. Then along comes Forest City & Friends, mixing the craft of bygone days with the modern era to create a new rock sound.
Forest City & Friends is a super-group that began as a songwriting collaboration between local rock luminaries Pete Giordano (Twisted Roots, Heart Shaped Rock) and Chris Muccino (Endless Interstate, Liquid Daydream) and with the addition of Greg Goodwin (Mercy, Akela Moon) the group quickly assembled an album of songs and began to recruit various local musicians, "friends" to record with.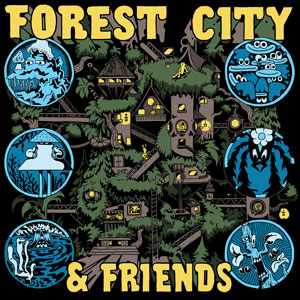 The "friends" included Mike Chasse (Dominic and the Lucid), Ryan Zoidis (Lettuce, Rustic Overtones), Tony McNaboe (Rustic Overtones, Ray Lamontagne), Jordan Warsky (Endless Interstate, Liquid Daydream), Chris Dow (Mallett Brothers), Sheridan (Heart Shaped Rock), John Clavette and several others.
Giordano said of the assembled band that "each player brought their unique style and sound to complete the recording, adding elements such as sax, keyboards, cajon, flute, bell, sitar and backing vocals, resulting in a harmonious gathering of minds and souls to create rhythm."
The CD was produced, recorded and mixed by Anthony Gatti (along with the band) at his studio The Bulkhead in Scarborough Maine and then mastered at the world famous Gateway Mastering in Portland Maine by Grammy Award winning engineer Adam Ayan.
Line-up:
Pete Giordano – Vocals / Guitars
Chris Muccino – Guitars / Banjo / Mandolin / Synth / Keys
Greg Goodwin – Bass / Vocals / Percussion
Mike Chasse – Drums
Paul Gauer – Percussion
Ryan Zoidis – Sax
Tony McNaboe – Keys / Percussion
Jordan Warsky – Drums
Chris Dow – Flute
Sheridan – Vocals
John Clavette – Vocals
Ahmed Al Sahesi – Percussion
Track Listing:
All Roads
Forest City
Phone Booth
Lawland Blue
Spirit Sound
Dead Man's Road
It Ain't Nothin' New
Companion
Rainmaker
21 Cent Whisper
Social Media Links:
http://www.forestcityandfriends.com
https://www.facebook.com/FCAFBand/
https://www.reverbnation.com/forestcityfriends
https://www.youtube.com/user/IndieUSA
https://www.instagram.com/forestcity2020/
Please follow and like us: