Singer-songwriter, musician, producer, and CEO / Owner of Pryor 2 What ? Records and Music Publishing, Doug Cash brings us another piece of acoustic propelled emotion with the track "You Wept For Yourself". As solemn as the song sounds, Cash's gift for melody and his penchant for poetic and evocative lyrics pull this song back from the brink of morbidity. His obsession with sentimental intricacies and the destructive mechanisms that pervade relationships is once again foraged and expanded on.
"If I'm outside, and you walk by. Don't look me in the eye. You wept for yourself. The die is cast, can't change the past. We knew it wouldn't last," sings Doug Cash in a wash of nostalgia. "What I know now, could have served me then. The tears drip from my pen. You wept for yourself." The sentiment also carries a subtle sense of self-indictment, but it's not self-pitying—that's not Cash's style. Not immune to heartfelt moments, he sounds genuine as he unfolds the core of the crisis.
On each new release it seems that Doug Cash has looked inside himself to make something that's more profound, wiser and open-hearted than anything he's produced before. And he subsequently moves on to achieve that presumed goal almost effortlessly, each time.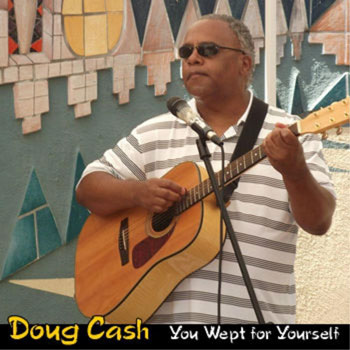 Musically, Cash takes his cues from the great singer-songwriters of past eras, but throughout his catalog, he is always keen to avoid clichés without shying away from heartfelt emotions. His expressions of love, or the loss thereof, are as honest as any songwriter around today, even when they are presented through an eye that is deeply cynical. Sincerity can often be cumbrous, most often when it's genuine.
"You Wept For Yourself" embraces that idea, calculating a vivid snapshot of the fluctuant emotional variables of human nature. Despite the acoustic and stripped-down nature of the production, we have a track that is masterfully thought out in all aspects you could think of.
Written, arranged, produced and performed by Doug Cash / DC Pryor, and Engineered by Matt Erich at EME Studios Sacramento, California, "You Wept For Yourself" is mapped across the whimsical background of an acoustic guitar slapping against every word of Doug Cash's crooning vocal, to keep the balance of lyrics and music as intertwined and emotionally engaging as possible.
Another noticeable detail, is the effective use of non-invasive production and how smartly the track was mixed. It's really a beautiful thing which allows your ears to sink in. "You Wept For Yourself" is an interesting affair, sure to please those who like to hear lyrics and instrumentation delivered with a pristine output but with enough grit and emotion left over to remain authentic.
All of this is equipped with masterful songwriting and storytelling, sung clearly by Doug Cash's perfectly appropriate vocals. "You Wept For Yourself" is yet another record that will stand time for those who really listen and get involved in music that comes straight from the heart.
OFFICIAL LINKS: TWITTER – SPOTIFY – YOUTUBE
Please follow and like us: