When a wide eyed yet novice university graduate released her 2014 debut album "Live Through Me," she embarked on a journey to develop a new sound and style in the Hip-Hop genre.  Her self-produced tracks were filled with patience and experimenting with the unexpected in terms of both sound and flow. Grinding and regrinding since that ambitious debut lead now Houston based rapper MJ to release multiple singles leading to her comeback EP, "The Way Things Were" in November of last year. Now in 2021, she is determined to be the next star in the rap game. Born in Redondo Beach, CA and raised primarily in Pensacola, FL means that MJ does not abide by those tempted to box in her talents. MJ grew up on the sounds of old school singers such as Luther Vandross and hard hitting Southern rap that ranged from Outkast to Cash Money records. She is developing her own vibe with the assistance of the soulful yet hard hitting Houston, TX music scene.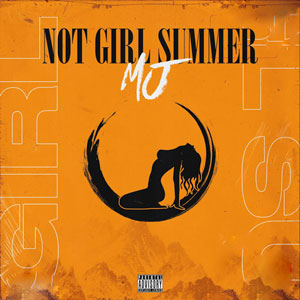 After moving to the home of the Rockets in 2015, she followed up her debut with a hard hitting mixtape entitled "MEEZUS". Both works can be listened to on her SoundCloud. The mixtape is a more cohesive effort expanding on both the social and personal turmoil MJ experiences in her lifetime. Collaborating with producer Rob the Matrix has allowed her to grow her own flow on her own terms for her 2020 singles entitled "Falling", "Houston Strong," and "Coming For That Spot". "Falling" hooks you on a hypnotic trance with confidence over a Caribbean infused beat. While "Houston Strong" and "Coming For That Spot" are lit and hard hitting for the city.
The singles lead to her EP "The Way Things Were" which has eight tracks dealing with social activism, feeling good, and more. The EP has garnered a considerable amount of attention especially in the Houston area. In May 2021, she released "Moonlight". The track is a smooth mix of Hip-Hop and R&B. Through heavy playlisting and organic promotion the single has garnered over 3000 streams combined on all platforms. Her most recent single, "Not Girl Summer," was accompanied by her debut music video. She is a rapper determined to leave her mark on the music industry.
Can you tell us a bit about where you come from and how you got started?



MJ:  I got started a decade a decade ago in a little town called Deland located in Florida.  Music had been in-and-out of my life since I was 9 years old. But after being an avid poetry writer and music lover I decide to take a leap of faith and become a rapper. I used to freestyle some to beats such as "Drop It Like It's Hot" in middle school and remembering that was one the few times where I was cool and not being bullied.  In college I had friends who would freestyle and freestyle and at times I would join in in on the fun.
Do you handle both the songwriting and beats on your songs, or do you collaborate with others?



MJ: I handle the song writing and I am constantly seeking out producers for my beats. There have been instances in the past where I have collaborated with others in terms of structuring my verses and helping to bring improve on my sound. It would be my dream to work with a main producer who would tailor craft beats to my liking because at times I do have demos in my head that I would love to be expanded into instrumentals. Thinking mind how Aliyah worked with Missy Elliott and Timbaland.  But I highly pride myself on writing my own lyrics because it's only lyrics because that's the biggest part in being a dope rapper. I want to be as real to myself and as authentic as they come in showcasing my natural talent.
Who were your first and strongest musical influences that you can remember, and who are you listening to now?
MJ:  Growing up and this is gonna sound so crazy but the 1st ever hip hop on rap song that was popular that I would listen to was Juvenile's "Back Dat Ass Up."  Like that was the main song that would play at the cookout and we were doing dances that we had no business during that age, lol.  But another influential song after that 1 that I remember constantly watching the music video too was Lauryn Hill's "That Thing".  And that also left a huge impression on me growing up. I just thought she was so cool in how unapologetically black and beautiful she was. Right now I've been listening to a wide range of artists. There's this one artist by the name of Charlie Bereal who is an underground musician that I've been getting into.  His song "Walked the Streets of Love" is a bonafide undiscovered classic to me.  Now in terms of female rappers I bump a lot of Flo Milli's music as well.
What do you feel are the key elements in your music that should resonate with listeners?



MJ:  Key elements in my music are very in depth and in tune lyrics and the ways in which I change up my flow and inflections in my voice. I have been learning to show more emotion into my sound and into how I project my lyrics onto the instrumentals. What should also resonate with listeners is that I am a very different female artist. Especially when it comes to rapping. In Derek I am extremely versatile with a wide range in my music. I have been able to learn how to switch up my flow and style depending on the song and the vibe.  And honestly, I can fucking spit. I have learnt to believe in myself and my voice despite what anyone else says.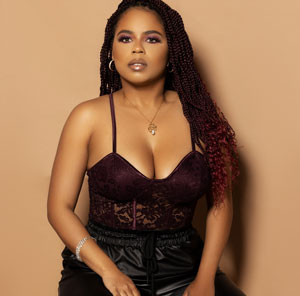 For most artists, originality is first preceded by a phase of learning and, often, emulating others. What was this like for you? How would you describe your own development as an artist and music maker, and the transition towards your own style?



MJ:  In the beginning an artist that I would constantly work on trying to emulate was Kendrick Lamar. It was my goal and dream to be like the female Kendrick Lamar but instead people would compare me more to Mc Lyte. Which isn't a bad thing but I would beat up on myself because I didn't really sound natural as a rapper at 1st and I didn't sound like anyone out there who was current. I actually did go through a period of artist development and I was working with another artist but they ended up leaving me dry. So there's been a lot of highs and downs in my musical journey. The main thing that I needed to do was practice and work on my craft. I had to dedicate a lot more time money and effort into myself if I were to ever expect anyone else to invest their time and money into me and my music.  There's been times where I had to step back and refocus and actually figured out who I wanted to be as an artist. What exactly did I want my identity to be. Did I want to just be like everyone else and gain fame and fortune the easy way.  Or did I want to be more true to myself and let the chips fall where they may. I felt like my EP last year "The Way Things Were" was a huge step for me in terms of establishing my own identity and going back and trying to do what I was doing before but in a much more efficient way.  For the 1st time I had a producer who actually custom mate beats for me and took all of my ideas into consideration. And I made a point to switch up my flow my style depending on the song and the vibe.
What's your view on the role and function of music as political, cultural, spiritual, and/or social vehicles – and do you try and affront any of these themes in your work, or are you purely interested in music as an expression of technical artistry, personal narrative and entertainment?



MJ:   My view is that each generation is defined in large part by its soundtrack. I truly do believe that music is the soundtrack for life in our society. From the day that I decided to do this for a living I strive to incorporate political and social things in my work. The main artist that officially made me want to do this for a living was Kendrick Lamar. Now there have been times where I have mainly made music from my personal entertainment and just for fun. Part of the reason why I looked up the Kendrick Lamar is because he was the artist that did both. His albums contain themes of black oppression and dis enfranchisement in a current American society. But he is also able to turn around and do lit tracks with the likes of ASAP Rocky and Travis Scott. Lately I have been focused more on incorporating a personal narrative into my music because I use my music as a form of therapy.
Do you write a song with current musical trends, formulas or listener satisfaction in mind, or do you simply focus on your own personal vision and trust that people will empathize with your sound?
MJ:  I'll admit that I've been guilty of writing songs with current musical trends in mind aiming to gain love from listeners. But lately I've had to not do that and instead just write music that's true to me and pray that my fandom will come. Instead of always focusing on whether or not this song will be a hit I instead focus on making a song that sounds good but at the same time still truth who I am. I cannot lie though it has been a struggle because is I have been very hungry for my big music breakthrough. And at times it gets frustrating because what I'm doing isn't exactly what's hot and popular right now.
Could you describe your creative processes? How do usually start, and go about shaping ideas into a completed song? Do you usually start with a beat, or a narrative in your head?
MJ:   It honestly depends. Sometimes I get the lyrics in my head 1st period other times I find myself listening to adult beat and just writing the lyrics from there. My creative process constantly changes.  Lately I have made a point to find instrumentals that I love and right so lyrics to it that I can relate to and that I pray my listeners can relate to as well.
What has been the most difficult thing you've had to endure in your life or career so far?



MJ:   The most difficult thing that I've had to endure is it is investing money into people and all of these of these teams that end up not really giving me a return on my investment. It is difficult being a self-funded independent artists and there are days where I just want to throw up my hands because it feels like I'm trying to do the impossible. I wish I had more money and I wish I had access to the right people who can help me get to that next level. It can feel very defeating at times.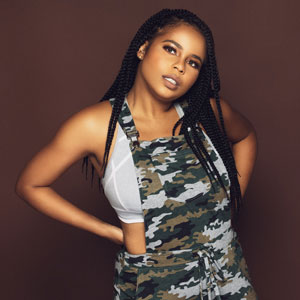 On the contrary, what would you consider a successful, proud or significant point in your life or career so far?
MJ:  A successful and proud point in my career is being able to come back to music Last year and consistently put out song after song. I've had to learn that consistency is key. Never stay complacent.  Also I am proud of the fact that I was able to fund my own very 1st music video. It was something that I was beginning to feel guilty about the fact that I had no music video content.
Putting aside the accolades or criticisms that fans or the media may afford your releases, what's the one thing about you or your music, you think people may overlook or misinterpret most often?
MJ:   Listeners at times tend to overlook my lyrical ability as well as my ability to switch it up as I grow into my craft.  But there is a huge misinterpretation especially when it comes to a female rapper that just because you aren't rapping about the usual that automatically means your music is trash. And that's not the case.
Do you think is it important for fans of your music to understand the real story and message driving each of your songs, or do you think everyone should be free to interpret your songs in their own way?



MJ:  Both.
Do you feel that your music is giving you back just as much as you put into it, or were you expecting something more, or different?



MJ:   For me it's just a matter of being patient. It's hard to come up in the industry especially as an independent artist. But I do believe in the end the sacrifices will pay off.
With social media having a heavy impact on our lives and the music business in general, how do you handle criticism, haters and/or naysayers in general? Is it something you pay attention to, or simply ignore?
MJ:   I used to take criticism of my music very harshly and please and would damn near have nervous breakdowns over them. Now I just block and ignore the haters lol.
Could you tell us something about your latest project and what the highlights are to watch out for?
MJ:   My latest project features a very beautiful up-and-coming singer by the name of Breana Marin.  Listen to her voice on the hook.  But expect a lot of smoothness on this next coming track.
Do you have a personal favorite track amongst those in your catalog that has a specific backstory and/or message and meaning very special to you?



MJ:  "Falling" to me is one of my best songs and usually the signature song I play for people listening to my music for the 1st time period. It's a track that I made that proved that I do have talent and that I have the ability to go far in music using my using my own style. It was a very fun track to make as well since at the time I was being developed as an artist. I also loved the track "Pandemonium" is pandemonium off of my EP from last year. A part of me hates that it gets overlook so much because there is a song that I wrote that was heavily inspired by inspired by all of the protests during the Black Lives Matter movement.  I wanted it to be like a dope anthem for anthem for everything that was going on at the time.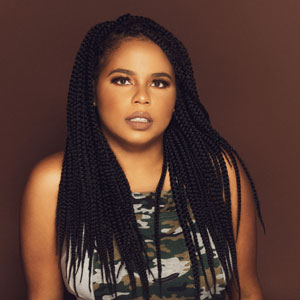 Creative work in studio environment, or interaction with a live audience? Which of these two options excite you most, and why?



MJ:   Interaction with a live audience. I love it when people get to listen to me in person because being a great performer to me is a key attribute of being a great artist in general. I would love to have a stage coach to work with.  I want to perform more and take my performances to the next level.
Do you have a favorite motto, phrase or piece of advice, you try to live or inspire yourself by?



MJ:  Don't give up.
How essential do you think video is in relation to your music? Do you have a video you suggest fans see, to get a better understanding of your persona and craft?



MJ:   It's been my mission to create more video content especially music video content. In the age of social media it's important for your fans to actually see your face and your face and just see who you are in the flesh. Even if it's just on video. Bit but I also think the creativity of music videos can help catapult a song to the next level. The visualization and concepts. I strongly would love for my fans to subscribe to my YouTube channel and watch my music video for "Not Girl Summer."  The video perfectly represents the song.
What do you find most rewarding about what you do? And do you have a specific vision or goal set in your mind that you would like to achieve in the near future?
MJ:  I find it most rewarding the ability to express myself unapologetically in my music. I also love it when people become fans of my songs or love my music. My goal is to create more music videos and to expand my artistry and the future. I want new fans! I want more ears.
OFFICIAL LINKS: APPLE MUSIC – SPOTIFY – STREAMS – YOUTUBE – ALL LINKS
Please follow and like us: