Gustavo Buezas is a session guitarist at Planet Helio studio in LA, he is also a music producer, and an essential part of the alternative rock band, THE FEAL. He recently worked on Anahi's album which has achieved number one spots in Mexico, Brazil, Colombia, Ecuador and Spain. He also produced a track for Alaya, which is a cover of Enrique Inglesias' "El Perdon".
How long have you been in the music business and how did you get started in the first place?
Gustavo Buezas: Well, music has always been my passion since I was a kid so I was always involved in the music business. I was 8 when I picked a guitar, but bought my own very first guitar at 12.
Who were your first musical influences that you can remember?
Gustavo Buezas: I was obsessed with the album Californication from Red Hot Chili Peppers, and made me change from classical to electric guitar. Stevie Ray Vaughan, Eric Clapton, John Mayer, The Beatles, Radiohead, I mean, I can keep naming artists the whole day.
Which artists are you currently listening to?
Gustavo Buezas: I've never been a heavy metal fan but recently a friend of mine made me listen to Avenged Sevenfold, so I'm currently listening that. Their songs are so good. I also listen a little bit of everything, especially new music, you gotta be up to date of what it's happening.
Could you tell us something about your favorite guitar and hardware setup?
Gustavo Buezas: Fender Strat 62. Can't beat that. Lot of delays and distortions are always good.
You're a session player in an LA studio, so tell us something about how you came about working there and who you have collaborated with?
Gustavo Buezas: I had the luck of meeting a lot of talented people. Producer Sebastian Jacome (Paulina Rubio, Enrique Iglesias, Gloria Trevi) opened a lot of doors to me. Alaya, Stephanie Zelaya, Dyland (from the famous Latin duet 'Dyland y Lenny) and even Lenny too are some of the artists I collaborated with. My Last work was recording guitars in Anahi's last album, which is number 1 in Mexico, Brazil, Colombia, Ecuador, Spain.
What do you think are the special ingredients you possess that make artists seek out your services?
Gustavo Buezas: I guess the only thing I can say is I feel and understand the music. I'm very lucky to have the support of every artist that I've worked with.
Do you have any particular preference when it comes to music genres or are you ready and willing to play them all?
Gustavo Buezas: Going for all!
If you were forced to choose only one, which emotion, more than any other drives you to be a part of this tough business day in and day out?
Gustavo Buezas: It's so hard to describe my day and my job with only one emotion. I think what's great about music is that every day, every moment; it makes you feel something different.
Which aspect of being an independent artist and the music making process excites you most and which aspect discourages you most?
Gustavo Buezas: The fact that you learn about doing everything, not just 'playing the guitar. You learn how to make videos, how to record, how to promote your music. That's one of the greatest things from the indie world. Distribution of your music, especially in radio, would be a difficult aspect.
If you could change one thing about the music business today, what would that be?
Gustavo Buezas: I wouldn't change a thing. Everything happens for a reason and you better accept it and move forward instead of wasting time judging it right?
What is the best piece of advice in this business you actually followed so far?
Gustavo Buezas: Be real, follow your dreams and learn how to read music too, that's always important!
Besides being a studio musician you're also in a band. How did that come about and why did you feel the need to be in a band, considering all your other work?
Gustavo Buezas: 'The Feal' is where I get to do exactly what I want. Don't get me wrong, I love playing for others, but this is where I can really make my own thing. We are actually playing a lot around LA so that makes me very happy.
Has the band released any music yet, and if so, where can fans find it?
Gustavo Buezas: Yes, we did just release our first EP 'The Beginning Is Now' which we recorded at Red Bull Studios during 2015. You can find the album in Spotify, iTunes/Apple Music, Soundcloud.
https://play.spotify.com/album/1TT1cVtMIusr2ZP5v4zw2H
https://itunes.apple.com/us/album/the-beginning-is-now-ep/id1098311597
https://soundcloud.com/the-feal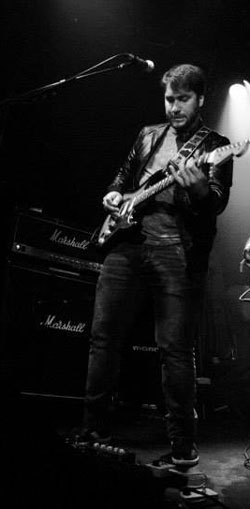 If someone has never heard THE FEAL's music, how would you describe the overall sound and style?
Gustavo Buezas: We are an alternative rock band with an eclectic sound, but very unique and powerful.
I think I read somewhere that you also produced music. Could you tell us more about that side of your creativity?
Gustavo Buezas: I enjoy music as a whole, so I could never live with just being a guitar player. That's part of why I'm playing with this band, together with my band mates, we produce the songs, is not that I just make the guitar parts. We do it all. Besides the band, I've co-produced the cover of 'El Perdon' (Enrique Iglesias Song) that the beautiful Alaya performs. We basically sat together and came with that amazing version which I personally think is better than the original.
https://www.youtube.com/watch?v=7p22UM1pAEs
Do you consider Internet and all the social media websites, as fundamental to your career, and indie music in general, or do you think it has only produced a mass of mediocre "copy-and-paste" artists, who flood the web, making it difficult for real talent to emerge?
Gustavo Buezas: Absolutely. Social media is super important nowadays, I believe it helps real talent to emerge, not making it difficult. You have a little bit of everything but in the end, the truth always wins.
Do you have a shortlist of artists in your head who you would love to work with?
Gustavo Buezas: Right now I don't have much time left so I'm focusing on what I have, but yeah I would love to work with a lot of artists.
At this point in time what would you consider a high point, or defining moment in your career so far?
Gustavo Buezas: The satisfaction of recording guitars for an album that's number one in Latin America it's pretty much a big point. Same when we played live at Staples Center for the Clippers first match of the season party this year with Alaya.
As you work your way through your career, which more than any other fires-up your imagination – A Grammy award, Platinum music sales or some other tangible milestone that we may know nothing of?
Gustavo Buezas: The feeling of playing live is always the best. I can't imagine how would it be to perform for a full arena, but I definitely look forward to that.
Do you have any specific plans or projects for a solo career up ahead?
Gustavo Buezas: I don't have anything yet, and my busy schedule doesn't help right now. Maybe in a couple of years I'll consider it because it's something I would like to do – Thanks for everything!
Please follow and like us: