Where are we talking from today?
Currently, we reside in Ventura County, about 20 to 30 minutes outside of Los Angeles.
What would you like to accomplish in 2020?
We want to release another album, go on tour to spread our music movement and increase our fan base with more loyal fans.
What is your take on politics?
We understand that politics play a huge role in the society nowadays which is why we try our best to stay updated on what's happening not only in our countries but all over the world.
Where did you get your artist's name from?
We came up with the name The Nike Boyz because we live by the motto of "just do it'. In life, especially in the entertainment industry, you have to act in the moment to truly grow and be successful.
Growing up, how important has music been in your life? Can you recall the moment when you decided that you wanted to be a musician? Was it an easy or difficult choice to make?
Growing up we've always been fans of all types of music but didn't have the ability to pursue it as a career due to family background/opportunity. Around 2011-2012 is when we found ourselves actually writing/recording songs but it was never in a professional setting. Going through college in 2013-2014 we ended making more music but found it more difficult because we were going through school and playing sports, the time we needed to dedicate to music was just not there. In 2018 we decided to take music 100% seriously and it was one of the greatest decisions we've made because it allowed us to fully develop our passion for music and help us realize what truly makes us happy.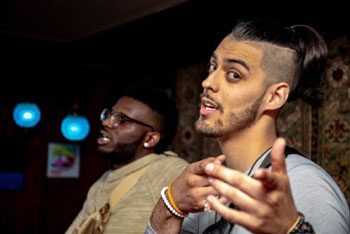 Was there ever a time when you thought about doing something else? If you weren't a musician today, what could you see yourself doing?
At the end of the day music is the only thing we want to be doing, but just growing up we knew that we had to give ourselves options. This is why we felt that school was very important because it could also give us a successful career in the medical field. Ultimately, if the music doesn't work out we still have the tools to go on the path of becoming doctors/going to medical school.
What has been the biggest surprise so far about making music your career? What has been an unexpected or welcome challenge to it all?
Our biggest surprise about making music so far is the amount of time and money it actually takes to create your own body of work. It's obviously been very challenging trying to independently fund our own music career but it just helps us prove the point of this being what we actually want. It helps build character, self-determination, and discipline which will only help you in the long run of our career.
What was it like putting together your EP?
Very exciting to say the least! We loved the process of picking out different instrumentals, hooks, and verses because it allowed us to truly be creative and make something out of nothing.
Who are some of your favorite artists or rather, what musicians have continued to inspire you and your music? Who would you absolutely still love to work with in the future?
Lil Wayne is our biggest influence in rap! His lyricism, dedication, and contribution to the music game is a huge reason why we even got into rapping/hip hop. In addition to him, we would love to work with other artists such as Drake, Big Sean, J Cole, Kanye, Post Malone, Meek Mill, Travis Scott, Rae SremmurdRoddy Ricch, and many other artists that have contributed to this generation's sound!
What has it been like keeping up with your social media accounts and all of the different platforms? Is it hard to stay up to date on it all? What would you say is your favorite way to connect with your fans now?
Social media is definitely a double-edged sword nowadays because it allows you to reach the masses at the click of a button but it also reduces the authenticity of actual interactions that take place. Gaining and keeping a following has honestly been pretty difficult due to the fact that it's hard to constantly keep the attention of someone in this day and age but we've managed to do a good job it! Instagram and YouTube help us stay engaged with how our fans feel about our music, what they like/dislike about our music and what they want to hear from us in the future.
If you were going to be stranded on a deserted island, what musical item would you take with you and why?
As millennial as the answer sounds, we would need to take any type of device that would allow us to record our voices! New music, sounds, and ideas would be able to be made/kept on record if we had this.
If your music was going to be featured on any TV show that is currently on right now, which would you love it to be on? Or if you prefer, what is a movie that you love that you wish your music was featured in?
We would love our music to be featured on ESPN! A lot of our music is upbeat and fun so we feel like the athletic community would benefit from listening to it!
At the end of the day, what do you hope people take away from your music?
We hope people take time to really listen to the whole sound of our songs. We strive to make good music for everyone to vibe to.
When you are not making music what else do you enjoy to do?
Play basketball, baseball, occasionally whoop some ass on Xbox Live & Nintendo Switch. We also enjoy traveling to new places and trying new foods!
OFFICIAL LINKS:
https://linktr.ee/theofficialnikeboyz
https://www.youtube.com/watch?v=FhwE-EAxEwM (Rap)
https://www.youtube.com/watch?v=FMzEjq_vkSM (HipHop)
Please follow and like us: