Songwriter and Composer Rizo Balic writes lyrics and composes music for both female and male artists in all tempos and styles, in Pop, Rock, R&B, and Dance. He has a collection of 81 professionally recorded songs (54 for Female and 27 for Male Artists). He also composes music for the movies. Two of his songs: BROKEN DREAMS and ALONE are featured as part of the movie: Unfit Misfit, by 3 Angels Power Inc., a movie company from Canada.
The last year a spin off movie: Summer Rewind, featured his songs in the movie as follows: Summer Rewind (theme song); EMOTIONS, IT IS TIME; THE STRONGEST ALWAYS SURVIVE; THE MIDNIGHT HOUR; MOONLIGHT ROMANCE (Instrumental); I'VE TO GO (Instrumental). For the movie Summer Rewind, Rizo also composed the background music for the movie. For third movie: Blaze Of Fury, he wrote the theme song: Fear Those Who Turns Love To Hate and composed background music for the movie. The movie is currently in the process of filming on various locations worldwide. It should be completed sometime during 2022 year.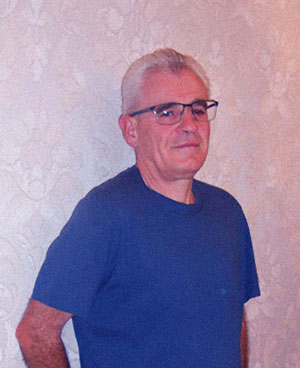 What music did you grow up listening to?
Rizo Balic: Yugoslavian folk and pop music.
How did you become involved in music production?
Rizo Balic: After writing many demo songs as a songwriter (lyricist), I though it wouldn't be a bad idea to try as a composer, and for that purpose, I bought a small home recording studio. And now I am in a position to produce my own background music, rather than to rely on someone else to do it for me.
How would you describe your style of music?
Rizo Balic: As a songwriter, it is a somewhere between pop, rock, and soul. As a composer, I produce and compose music in many different genres and moods, from new classical music to jazz, as well as background music suitable for movies, TV programs, dramas and video games.
Do you write both the lyrics and the music in your songs?
Rizo Balic: Yes, I write my own lyrics and compose the music.
Is there a hidden meaning in your music?
Rizo Balic: For most of my songs, the lyrics are very powerful and full of emotions. I am very emotional and in every my song I pour out my heart and soul into it.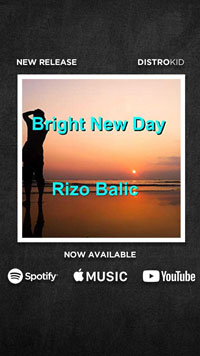 Do you collaborate with other musicians? What is that process?
Rizo Balic: As a songwriter, the majority of my songs are recorded by a small recording studio, called "Diamond Studios", who add vocals to my lyrics. As a composer, I have my own small home recording studio where I compose and produce background music suitable for movies, dramas, TV programs, and video games.
What skills have you learned that will help you in your music career?
Rizo Balic: When I arrived in UK, in the summer of 1988, I was able to speak just a few words of English. So the first thing I needed to do, was to learn the English language in a various "night colleges around London. In addition, I bought a keyboard and learned how to read and write the music. So, overall it did take a lot of my time and dedication, but, it was, and it is still very enjoyable, and I would never regret a single bit.
Do you have a record label? Are you a member of any music organization?
Rizo Balic: I am unsigned songwriter and composer, and a member of PRS England.
Where do you find your artistic inspiration?
Rizo Balic: At an early stage in my life, as I child I was fascinated by Yugoslavian folk music. During my studies at the political science university – Belgrade, my music taste had changed to Yugoslavian pop and rock music. When I arrived in the United Kingdom in 1988, my music taste had turned towards English and American pop and rock. The mixture of all those different music genres and music culture, has played a main influence in starting a road toward making my own music and trying to establish myself as an artist here.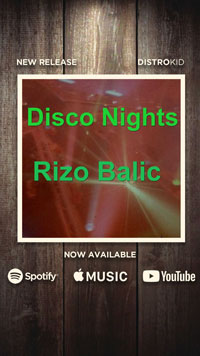 What are the main topics for most of your songs? Do you think topics will change overtime?
Rizo Balic: It's based on life or current situations, either social or political events.
What are you working on right now? Did you release something in the past?
Rizo Balic: I am busy composing background music for an upcoming movie: Chi Ann Blaze of Fury, for a small (independent) Canadian Films company; 3 Angels Power Inc.
What do you feel is the best song you ever released and why?
Rizo Balic: My very first song, written in the English language in 2002, "Living in the City." when I wrote the song (it is a song about loneliness), I wanted to see how I was getting on with my English, and especially regarding the composing of the music. Thanks to the Guild of International Songwriters and Composers and their recording studio: SCAMP. When I heard for the first time the vocals of the song (produced by SCAMP), then, I knew, I was ready to start on a long journey towards my music career.
Who are you inspired by?
Rizo Balic: White Button (Yugoslavian Rock Band), Abba, Elton John, Beatles, Madonna, Celine Dion, Whitney Houston, and Britney Spears.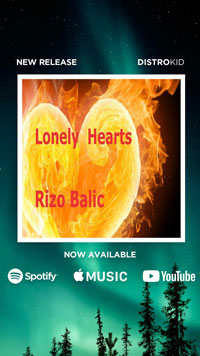 What would be your dream collaboration, with any musician or producer?
Rizo Balic: Elton John and John Williams.
How do you balance your music with other obligations – school, hobby, job?
Rizo Balic: It is a hard task to do it, but somehow (so far) I have managed to do it, I would say quite good.
At the end of the day, what do you hope people take away from your music?
Rizo Balic: The lyrics for most of my songs it's very powerful and meaningful , I am a good story teller and based on my life experiences, I am sure many of people around the world when they listened the lyrics of my songs would find similar things has happened in their lives too.
Would you like to give any message to your fans?
Rizo Balic: The majority of my songs are not suitable for "charts" or "one hit wonders". Most of my songs will stay there (most probably it would not make a lot of money) but, will stay there in public domain for generations to come and will be listened (and most probably) more appreciated in the future, long time after I am departed from this world, than right now.
OFFICIAL LINKS:
https://open.spotify.com/playlist/11k83GpwuhHrm84yeDD458?si=54a0c88f4bcc4185
http://www.numberonemusic.com/rizobalic
 https://www.youtube.com/rizobalic
https//www.instagram.com/rizobalic
https://www.twitter.com/rizobalic
Please follow and like us: