Mallika Mehta who sings both in English and Hindu, has been singing since the age of 6. In 2014, she undertook training with the Voice Academy, NYC, and also attended a 5 week summer program at Berklee College of Music, Boston in 2016. In that same year, Mallika performed her official debut concert, entitled "Rhythm", in front of an enthusiastic crowd in Mumbai.
Subsequently Mallika was also invited to open a concert for Kailash Kher, the Indian pop-rock and Bollywood playback star. Mallika Mehta's first ever English single "War Solo" was released on 21st November, 2016. The song was recorded at the VOA Studio, Port Washington, while the Recording, Mixing and Mastering were done by Robert Nolfe.
How do you feel to be called "The Adele of Mumbai" by international media?
Mallika Mehta: Adele has been my role model ever since I heard the song Rolling In The Deep. Singing her songs has always been a thrilling experience. Being called The Adele of Mumbai is an honor and definitely makes me feel as if I were on cloud 9.
Who were your first and strongest musical influences that you can remember?



Mallika Mehta: My strongest musical influences have been Adele, Whitney Houston, Rihanna, Bryan Adams and a few Indian Artists namely Kishore Kumar, Asha Bhonsle and Sunidhi Chauhan.
Which artists are you currently listening to?



 Mallika Mehta: I've been listening to Zara Larsson, Adele, Charlie Puth, Ed Sheeran, Dua Lipa etc.
Which of the artists that you listen to would you most like to collaborate or sing a duet with?



Mallika Mehta: That would be an honor, but I'd love to collaborate with Ed Sheeran, Charlie Puth and especially sing along with my idol Adele.
Tell us something about the music and lyrics in your songs. How do they all come about?



Mallika Mehta: Both my originals, War solo & Flame Is Gone are songs based on one sided selfless love and they talk about heartbreak. The lyrics are those which anyone in love can relate to. To me lyrics are the most important part while constructing a song and that's the reason why I pay much attention to them.
Are your songs based on real events or are they creative, imaginary themes?



Mallika Mehta: My songs are a combination of both real events and imaginary themes.
Have you always wanted to be an artist? (And was there a particular moment you said to yourself, 'I can do this!')?



Mallika Mehta: As a child I would dance around in my room and sing songs imagining myself in a packed auditorium performing for thousands of people. I didn't know then that I'd be an artist but to come to think of it, I always loved performing. I think after my very first concert "Rhythm" I knew music was a huge part of me and that it was something I really wanted to do.
You have been singing for quite a while now. What would you consider a successful, proud, or high point in your career so far?



Mallika Mehta: Every gig, concert or article gives me adrenaline rush, small or big. But having 2 solo concerts with a crowd full of music lovers and then releasing 2 original singles which were appreciated by many made me feel proud for sure.
You sang 93 songs in 5 languages in your concert "Fusion" in front of a full house. How was the experience?
Mallika Mehta: Fusion was a very different experience and feeling altogether. A very good one. I wanted to sing a large number of songs and I wanted to do so in as many languages as I could. Arranging the songs and deciding the best one was a difficult task but the outcome was wonderful. The audience enjoyed it as it was something new and moreover I had a great time performing.
What key ingredients do you always try and infuse into your songs, regardless of style or tempo?



Mallika Mehta: That would be the lyrics, hands down. Lyrics mean a lot to me. In fact I cover and practice songs with meaningful lyrics or those which appeal to me. So I'd try to infuse lyrics which can be connected to and those which people can feel when they hear them.
Are your family and loved ones supportive of your creative endeavors, or are you pretty much one of those misunderstood creatives like so many others?
Mallika Mehta: I've been more than lucky with that. My parents and family both have been extremely supportive when it comes to music and everything else in my life. In fact, there have been times when my mom and dad have been more excited and cheerful about something than I have been and I can't really thank them enough for that.
Which aspect of being an independent artist and the music making process excites you most and which aspect discourages you most?



Mallika Mehta: Well, being an independent artist is nice since you get to take all the major decisions and write and make your songs the way you like them. At the same time it has its cons. There are times that a band or a team would help more keeping in mind multiple gigs and its always more fun to perform with more people then perform alone.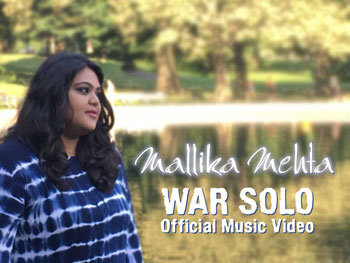 How do you record, produce and market your music? Do you have a team behind you, who takes care of things or do you run everything by yourself?



Mallika Mehta: I normally market my music on my own and with the help of my parents. I learnt a lot about marketing my music while I was at Harvard University. My originals have been written and produced by me.
If you had the opportunity to change one thing about how the music business works right now, what would that be?



Mallika Mehta: I think people should get the opportunity to make their music heard by millions of people. Every single artist deserves that. Although some artists and songs overshadow the rest. I believe that there should be a better platform for upcoming talent to bring their music to the people.
If someone has never heard your music, which keywords would you personally use to describe your overall sound and style?
Mallika Mehta: Some of the best keywords would be Mallika Mehta Music; Adele Of Mumbai ; Pop Indie Singer ; Mallika's Mashups
Do you consider Internet and all the social media websites as fundamental in building a career in music today, and what is your personal relationship with the new technology at hand?



Mallika Mehta: Definitely, I think that with the current scenario of the social media being a huge part of every individual's day, everyone needs to be socially active on Facebook, Instagram, twitter etc. Especially Singers, Actors and other Artists in general. I practice what I preach. I have active social media handles. I mostly post a lot of my music related and personal pictures on Instagram a couple times a week. I also post things on Facebook and twitter. I believe it's one of the best ways to stay connected and engage with your audience.
What are your thoughts on formal music training? Do you think people still need to study music, considering that 16 year old kids are winning Grammy's and producing multi-platinum selling records from their bedrooms with a simple laptop and no theoretical knowledge of music whatsoever?



Mallika Mehta: I believe that some amount of formal training is definitely required. I learnt this when I went to Berklee College of Music, Boston for a summer program. Once I got back I realized how much I had learnt and the things I would have never known if I hadn't been there.
What is your relationship with visual media? Do enjoy doing videos, and do you think it adds something to your artistic package or do you use it purely for promotional purposes?



Mallika Mehta: For me videos have always been very important. I have paid a lot of attention on all my videos, be it my originals or my covers. I think its one of the best ways to engage your audience. In fact I really enjoy making videos. It's a lot of fun shooting them, deciding different themes and locations and editing them.
How would you define 'success' regarding your craft? And what do you feel you would still have to achieve to consider yourself 'successful' in what you do?



Mallika Mehta: Success to an artist is seeing their music or art being played, sung, heard and appreciated by millions of people. If my music is heard and enjoyed by millions of people I will consider it to be the most successful thing ever. I would like to be the one voice that people love listening to wherever they go and to be known by as many people as there can be.
Singing live in front of an audience, or being creative inside a recording studio. Which do you prefer, and why?
Mallika Mehta: Honestly, both the experiences are absolutely different and have different things to learn from. I would personally prefer singing live in front of a cheering audience,  but that certainly doesn't mean that I won't and don't enjoy working in a recording studio. It's a calmer feeling and allows me to be creative.
OFFICIAL LINKS: FACEBOOK – INSTAGRAM – YOUTUBE CHANNEL
Please follow and like us: