Laskii are always tinkering around the edges of their sonic universe, getting darker, subtler, and more expansive. They do that throughout their steadily growing catalog, and the payoff is enormously gratifying. The Alaskan act blends bedroom pop, emo rap and indie styles to bring a fresh vibe to the emo culture. Laskii has long learned and realized the delectability of the foundational nature of great, nuanced storytelling. Its impact is one that is profoundly mesmerizing on "Hazel Eyes". This is a track that one can love absolutely, unreservedly, and care about even from the very first listen, and that feeling is not diminished in any shape or form on repeated spins. In its simplicity, it's a top tier song that has been carefully knitted together for maximum impact.
Can you tell us a little bit how you got started making music and when you began to take it seriously?
Laskii: I got into music at a very young age. My grandpa played piano for his local church, and I would listen to him play as a child. In middle school we had to choose which music path to get into, so I chose jazz band! I played alto sax and was a lead soloist. Over the years I got to be in local bands playing bass, doing vocals, having a good time. Music is one of the few things that truly brings me joy and drives passion and motivation. I never thought that I could truly make it, you know like imposter syndrome. I took it more seriously the last couple years! I'm so happy that I did because it's one of those things that anyone can do, but just about the work you put into it. I never aim or make it my mission for getting money. It's a hobby that I have fun with and makes me happy! Find me the most active on Soundcloud and Facebook to see new releases before anywhere else!
Who were your first and strongest musical influences that you can remember?
Laskii:  Oh gosh, there are so many! NeverShoutNever (Christofer Drew), SayWeCanFly, Pierce the Veil, Asking Alexandria, Attack Attack!, D at Sea, etc. The late 2000's, early 2010's era of scene kids was my upbringing with warped tour, hot topic, etc. A variety of different genres is what kinda built me up to be like emo pop, or emo hiphop, emo indie.
Have you received any formal music or vocal training, or are you self-taught?
Laskii: Self taught! The only instrument that I had lessons for was alto saxophone. I have not had vocal training.
What do you feel are the key elements in your music that should resonate with listeners?
Laskii: Every song I create comes from raw emotion, what I'm thinking and feeling in that moment. I'll find a beat, and if I ride with it, then I get hype,and its just a smooth flow. The lyrics will just come out naturally. I create a song fairly quickly and use my spirituality to help guide me and tell my story. I turn to nature to refresh my mind. You'll notice how I mention nature a bit in my songs. Especially water.
For most artists, originality is first preceded by a phase of learning and, often, emulating others. What was this like for you? How would you describe your development as an artist and music maker, and the transition towards your own style?
Laskii: Finding out your own style in the music industry can be challenging. Media influence creates this idea that we want to follow what is trending to become relevant. But for me, I was able to discover myself when I stopped caring what everyone thinks and do it for me. I don't care if I only have 1 supporter, or 100, or a million. I do music how I want and don't ever want that to change. At first, I did try sounding like others but when it comes from the soul and your heart, people will love YOU as long as you're your true self.
What is your view on the role and function of music as political, cultural, spiritual, and/or social vehicles – and do you affront any of these themes in your work, or are you purely interested in music as an expression of technical artistry, personal narrative and entertainment?
Laskii: Lots of people look up to their favorite artists for comfort and to feel relatable to someone. People trust people. I'm interested in music as music. Expression of one's self, can be used as a healthy coping outlet, can be entertainment, music can be anything you want it to be. Music is meaning.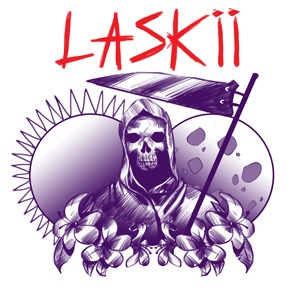 Could you describe your creative processes? How do you most often start, and go about shaping ideas into a song? Do you usually start with a beat, a narrative in your head, or a melody?
Laskii: Both! They occur at random times. There will be moments where I'm on fire, I'm making a song a week! Then it'll fade, and maybe won't start again for a month or two. I notice what happens in my personal life will greatly influence the songs I make. So sometimes I will put myself out there and get ideas going for new songs.
As far as recording the instrumentals in your music, do you collaborate with a fixed producer or do you seek out different potential collaborators from time to time?
Laskii:  I like to work with a wide variety of people. I like to try new genres and put my own twist on things. We all tryna make it out here so I like to experiment and give others a chance, too!
What has been the most difficult thing you have had to endure in your musical career, or life, so far, and how did you overcome that event?
Laskii:  The most difficult thing was really putting myself out there and believing "Man, I can do this." I'm my own worst enemy and I held myself back for a few years. When I was 21, I was like "Alright, lets do this" Live everyday like it's your last and don't hold back.
On the contrary, what would you consider a successful, proud or significant point in your life or career so far?
Laskii:  Being featured in interviews, magazines, and being heard on the radio has been a big turning point for me. I have lots of goals, still unsigned, do everything on my own with help of independent producers. (If you're an A&R person reading this, heyyy, check out my soundcloud!)
With social media having a heavy impact on our lives and the music business in general, how do you handle criticism, haters and/or naysayers in general? Is it something you pay attention to, or simply ignore?
Laskii: Depends on what is said, but usually it doesn't have an affect on me and it's best to kill with kindness. People that are slamming down others for no reason have things going on in their own lives so talking sh** will probably make them feel better about themselves.
Putting aside any accolades or criticisms that fans, the industry, or the media may afford your persona or music, is there anything about you or your music, you think people may overlook, underestimate or misunderstand at all?



Laskii: My songs will have as many meanings as how many people listen. Everyone has a different perspective, different tastes, styles, vibes, I love and appreciate those who i can have an impact on to make people feel less alone.
Could you describe your overall sound and style using five adjectives?
Laskii: Emo, indie, unique, underground, vibe
Could you tell us something about the making of your project "Hazel Eyez", and the story or overarching message behind it?
Laskii:  Hazel Eyez started actually with no one in mind. It started off kinda as a love song, then over time, I realized it told a great story. A story about going through the emotions, getting curveball after curveball thrown at you, and feeling like life's difficult. Almost as if seeing you on the other side would be better at times. It came from a dark place with a beautiful vision in mind for the future. Music keeps me going. I didn't realize it was that deep at first, but then I went with it and ended it with something you wouldn't expect. Because that's how it generally goes.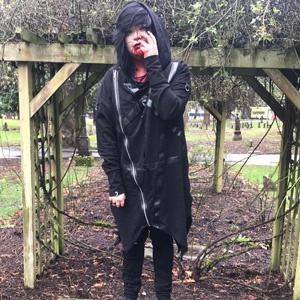 Is there maybe one song in your catalog that has a more special meaning to you than the others, and if so, why?
Laskii: Futuristic Lover is an older one that I plan on remaking. I made a song that's inspired by Donnie Darko – my favorite movie of all time
Do you have a favorite motto, phrase or piece of advice, you try to live or inspire yourself by?
Laskii: Hakuna Matata, destruction is a form of creation, this too shall pass.
Studio work and songwriting, or performing and interacting with a live audience, which do you prefer, and why?
Laskii: Songwriting and studio work is my favorite way to pass time. I love shows, as well! The people are always awesome to meet.
What's the most exciting part of being an independent music artist for you, and which is the part you like least?
Laskii: I love that I do it on my own time. There's nothing I don't like.
How essential do you think video is in relation to your music? Do you have a favorite visual you could suggest fans see, to get a better understanding of your persona and craft?
Laskii:  Super important! I've released some visualizers, and in the process of new videos!
What do you find most rewarding about your craft? And do you have a specific vision or goal set in your mind that you would like to achieve in the near future?
Laskii: I would love to have 50,000 followers by next year!
OFFICIAL LINKS: SOUNDCLOUD – FACEBOOK
Please follow and like us: